WHY cloud data management?
The trend is for businesses of all sizes to move to the cloud, boosting business agility, simplifying technology management, and lowering IT overhead. SOLIDWORKS and Dassault Systèmes have invested heavily in cloud technology to provide scalable, easy-to-access, and secure solutions for the mainstream market.
Cloud data management eliminates the need for backups or separate, costly IT infrastructure (network drive, server, etc.).
Having control over sensitive data is vital to any company. Built-in data management enables complete visibility and control over your data.
Data management reduces the risk of errors and miscommunication; everyone on the team works with the same data for an efficient engineering workflow.
Users can access their data 24/7, anywhere and from any device.
Cloud data management offers many advanced security features that ensure your data is securely stored and managed.
Quick data recovery is in place for all kinds of emergency scenarios—from natural disasters to power outages.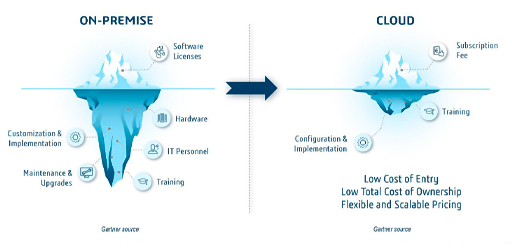 A lot of our clients are facing this question. Do they choose an on-premise solution, or a cloud solution? Many of our clients are choosing to utilize the cloud because of the high cost of infrastructure and IT. A good way to look at it is using an 'iceberg' analogy. The part of the iceberg that you see above the surface doesn't make up the whole picture. On the left you see the on-premise iceberg. There are a lot of hidden cost with on-premise deployment: lost time and money on non-value add expenses. "For example," Maintenance & Upgrades are a recurring cost, and according to source, make up 20% of the total expenses.
Looking at the Cloud iceberg on the right, you can see that the cost of Maintenance & Upgrades has been removed along with other non-value added recurring expenses. The Cloud is trending because it provides a Low Cost of Entry, Low Total Cost of Ownership, with Flexible and Scalable Pricing. Therefore, many in the industry are moving to the cloud and why Dassault Systems has created the 3DEXPERIENCE Cloud Platform.
Cloud data management brings security concerns
Security is paramount and built into the heart of the 3DEXPERIENCE Platform. It is based on industry standards and best practices, including.
OWASP: Open Web Application Security Project
OWASP is dedicated to enabling organizations to develop and maintain highly secure applications. The OWASP Foundation is the leading source for cutting-edge research, prevalent frameworks and vital information related to application security.
NIST: National Institute of Standards and Technology
NIST is the pre-eminent source for critical measurement solutions and equitable standards in electronics, software and other technologies. NIST Special Publication (SP) 800-53 defines security controls and privacy controls for information systems and organizations.
ISO/IEC: International Organization for Standardization and the International Electrotechnical Commission
ISO/IEC is a joint technical committee that works to promote standards in IT and communications technology. The ISO/IEC 27001 standard3 provides requirements for establishing, implementing, maintaining and continually improving an information security management system.
Advantages of Cloud Adoption
"Connected" allows for information existing in the cloud to be available anytime and anywhere. Information sitting in a cloud environment can be pulled from any device whether it be a smartphone, tablet or PC.
Information in the cloud can be shared among team members, partners, suppliers and customers. The information sitting in the cloud can be made accessible to anyone granted privileges to view that information.
Using cloud technologies ensures that everyone has the latest version of the information, coupled with the history of iterations. It also ensures that everyone is running the same version of the software removing possible issues in version conflict.
We Urge You To Call Us For Any Doubts & Clarifications That You May Have. We Are Eager to Talk To You
Call Us: +91 7406663589