The template holds a range of settings that can be predefined and applied to drawing sheets on creation within a project. These settings include drawing orientation, title block, grid options, border and sheet colour and other options that control the sheet's font and style.
To create own custom title block, the first step is to open an existing title block. These can be found in default location C:\Users\Public\Documents\SOLIDWORKS\SOLIDWORKSPCB\Templates.
In this case, let's start with A.schdot file.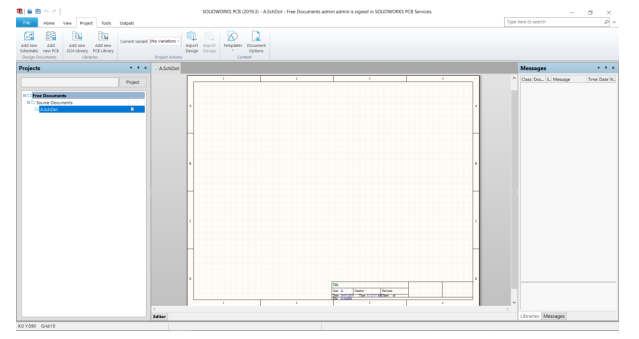 We can make changes to any document options we would like to or any visual changes to the title block itself.
ADDING MORE INFORMATION BOXES:
We can add information boxes to the default title block by using the polyline function and adding some simple text as shown below.

ADDING A LOGO AND ATTRIBUTES/PARAMETERS:
Now let's take a look at adding an image of say a company logo, and perhaps most importantly adding attributes or parameters which will be used to populate our title block information for each specific project or sheet.
For adding parameters to your block simply add normal text and double-click the text to activate the properties. Once in the text properties, you can change font size, colour, and so forth; plus you can also use a drop-down to select specific text parameters that will be tied to the project information such as "=Organisation".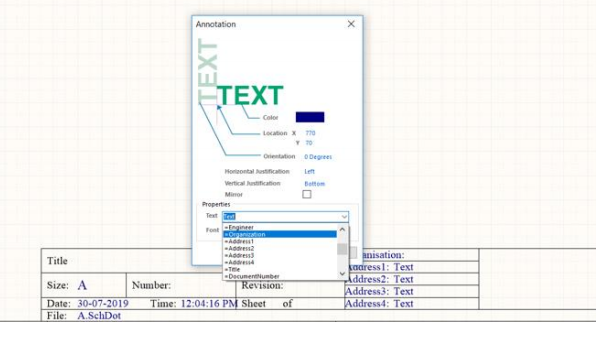 Inserting an image is as simple as using the Home > Image command and browse the required image.

SAVE AS NEW TEMPLATE:
Once we have tied all the appropriate text values to parameters as needed we can just save this document as a new template within our template directory and it will be available for use in any future projects.
To insert document parameters into any project we can go through Project > Document Options > Parameters tab and set any document parameters as needed to automatically populate our title block.
We Urge You To Call Us For Any Doubts & Clarifications That You May Have. We Are Eager to Talk To You
Call Us: +91 7406663589