As you guys are aware the SOLIDWORKS network licenses is always hosted on a server connected to your network, All the end user should be connected to the identical network to obtain a license available on it.
There are unexpected situations were a user may be required to use a license away from your office, such as working from home or offsite with a laptop.
Below are the simple steps that can be followed to borrow the license.
By Connecting to your network through VPN (which requires the Internet connection)
Borrow a license through the SolidNetwork License Manager (Within the LAN).
NOTE : If end users have issues obtaining a license over a VPN connection, there may be issues connecting to the server or firewalls blocking communication.
BORROW LICENSES FROM THE SOLIDNETWORK LICENSE MANAGER
A connection to your network is required to initially borrow a license.  Once borrowed, the computer can be disconnected from the network and will not require any internet connection to run.
IMPORTANT: Do not borrow a license when connected to VPN.  Only borrow when physically connected to the network.  The use of an ethernet cable is highly recommended, rather than using Wi-Fi connections.
Open the SolidNetwork License Manager Client on the user machine.
This can be found under Start > SolidWorks Tools 20XX > SolidNetwork License Manager Client 20XX.  There should be 4 tabs at the top.  Select "License Borrowing".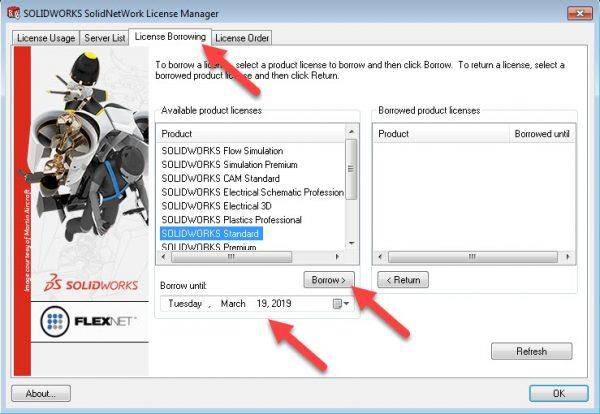 SOLIDWORKS Network License Borrow
The list of products that have an available license will be shown in the list.  Select the one required and specify the last day you will need the license.  Licenses are limited to a 30-day maximum borrow period.
This maximum period can be shortened using an Options file. SOLIDWORKS will be available for use through to 11:59pm on the day specified.
At midnight of the following day, the license will expire on the client laptop and the license will be freed up on the server.  The license will need to be borrowed again after 30 days. Once you have selected a product and the borrow until date, click Borrow.  This will move the license under the Borrowed Product Licenses window.  A Standard License will automatically be borrowed with any higher-level license.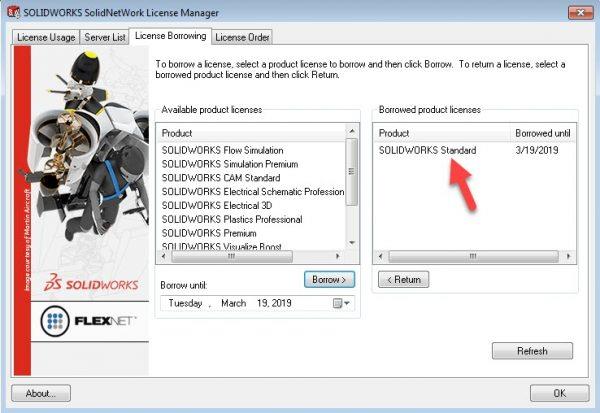 SOLIDWORKS Network Licenses Borrowed
A borrowed license will be shown In Use from the network pool until it is returned.  If you get back to the office before the date specified, you can manually return the license. Reconnect to the network.  Select the license in the Borrowed Product Licenses list and click Return. The license will be returned and become available to the network pool.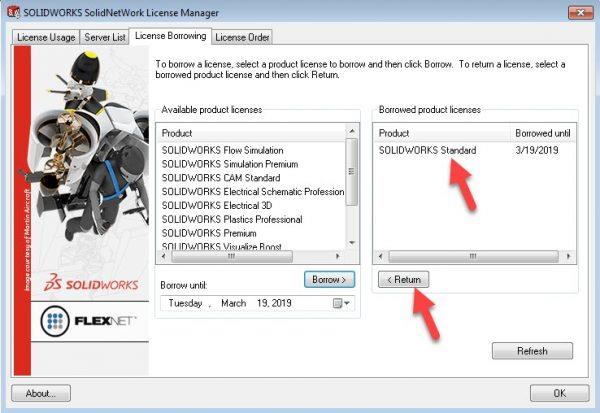 SOLIDWORKS Network License Return
We Urge You To Call Us For Any Doubts & Clarifications That You May Have. We Are Eager to Talk To You
Call Us: +91 7406663589