In today's smart manufacturing era, 3D printing/ Additive Manufacturing is on the rise and it enables to produce complex shapes nearly impossible to do using traditional manufacturing processes. Reverse engineering plays a vital role in this process, that is the 3D scanned data is the source of input to achieve the complex shapes.
If you are breaking your head how to use the scanned data to makes changes or improvise the design and take it one level ahead!!
Boom!!! SOLIDWORKS to the rescue…!!!
SOLIDWORKS has always worked around the latest technological trends and made the lives of many designers easier.
The new Slicing tool in SOLIDWORKS 2019 lets us leverage the 3D scanned data such as a 3MF file which is a mesh body and create a perfect solid body out of it.
Let's take a look at how it works: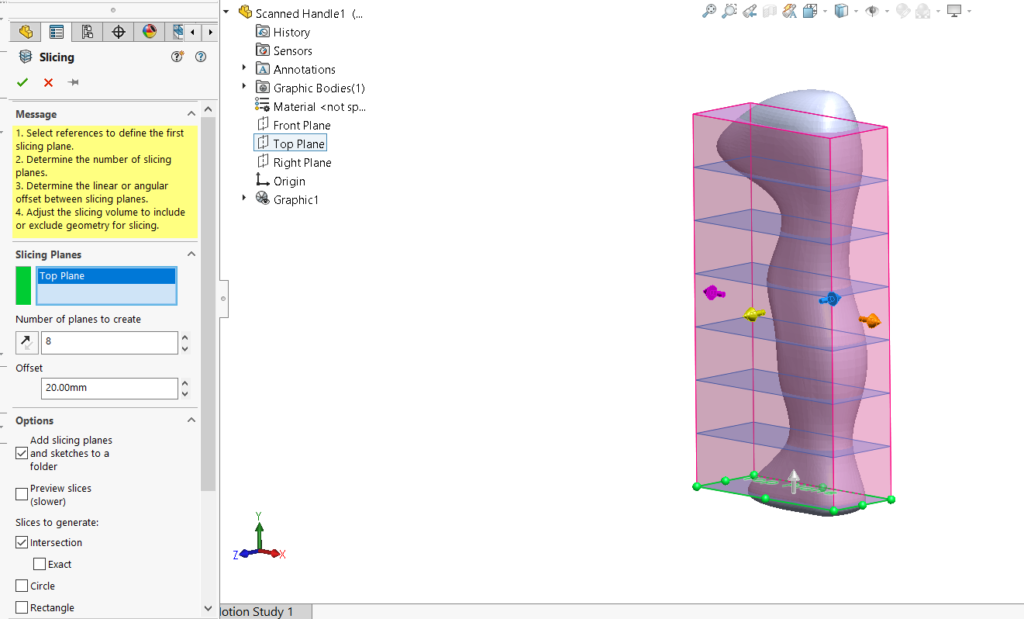 The slicing tool presents us with a feature manager tab. It involves just three steps.
Step 1: Select the reference plane.
Step 2: Define the number of planes.
Step 3: Define the offset distance between the planes.
And…SOLIDWORKS will do the hard work of creating the sketches, planes and also organising in a folder for further changes.
These sketches can be used to create the solid body like any other traditional sketch.
By: Pruthvi K V – Application Engineer
We Urge You To Call Us For Any Doubts & Clarifications That You May Have. We Are Eager to Talk To You
Call Us: +91 7406663589