To generate product manuals, it is necessary to include high quality image for proper demonstration. This can be achieve in Solidworks Composer by Technical Illustration. It has ability to create 2-D superlative quality graphical data from 3-D CAD model. One can start working on creating manuals on composer even in before the model is designed completely, as 3D model is linked to Composer file. The main advantage you do not need much skilled engineer to operate Composer, even a non-technical users can generate images in technical illustration, instead of taking screenshot in Solidworks CAD.
It can publish/save/create following file types:
Scalable Vector Graphics(SVG) is an XML-based vector image format for two-dimensional graphics with support for interactivity and animation
The SVGZ file type is primarily associated with Compressed Scalable Vector Graphics File.
Encapsulated PostScript(EPS) is a PostScript program, saved as a single file that includes a low-resolution preview "encapsulated" inside of it, allowing some programs to display a preview on the screen.
Computer Graphics Metafile(CGM) is a free and open international standard file format for 2D vector graphics, raster graphics, and text.
In this blog we will learn how to use Technical Illustration and different types of Lines and Colors region and detail view.
Technical Illustration can be found in Workshop tab in Publishing tab.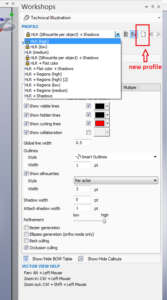 Firstly, select the predefined profile which already exist with some defined parameters for the view for example, HRL(high), HRL(medium),HRL(low), etc. Also one can create new profile as per your requirements.
In Vectorization, composer has various options for lines which creates wide impact on documentation. Lets check the distinct Lines and its results:
To Generate .svg or html file with all the lines are hidden: uncheck all the lines to hide them. Click on preview for Preview and save as to save the .svg/.html file. Right click on .html file save picture as to save image file.
Note : For color images check Color region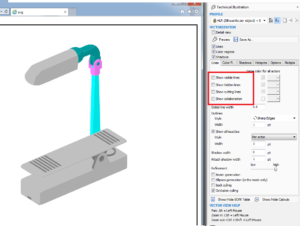 To Generate .svg or html file for Show visible Lines in black, hidden lines in green and no color region:
      Note: Color for every line type is applicable for all actors type in model.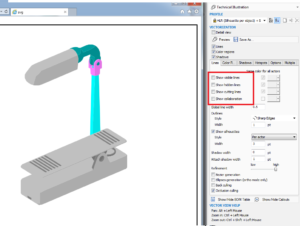 3. To Generate .svg or html file to show Cutting Lines and show collaboration: Show cutting lines is applicable for sectioned model only. Section can achieved by creating cutting planes in Author tab and labels for actors can be created in Annotations in Author tab. Change in Global line width change width of all line type present in the view.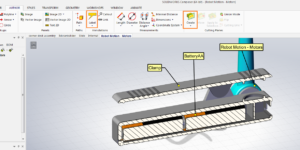 Note: hiding collaboration will not showcase labels in .svg file or image file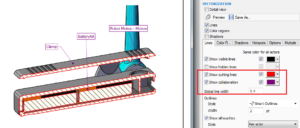 4. To Create Detail View: select an actor from assembly> check detail view> create. Below example is detail view of Battery AA completely covered by Base .
Note: Save as will save the current view in .svg file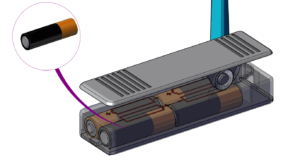 We Urge You To Call Us For Any Doubts & Clarifications That You May Have. We Are Eager to Talk To You
Call Us: +91 7406663589