In the actual engineering structure, such as aerospace, ship, and marine, plate structures are considered as major engineering substructures, especially wherever the weight is a main issue. It is often necessary to fix up an appropriate number of cutouts based on experience for structural maintenance, weight reduction, or performance optimization.
On one hand, stress concentration occurs around the cutouts, and the static strength of the component is reduced; on the other hand, the quality and stiffness distribution of the structure will change for the existing cutouts, which have a great influence on the mechanical properties such as natural frequency and structural load-bearing performance of the structure.
Therefore, analysis of the mechanical properties of the structure with cutouts has been a hot issue in the research, which is of great significance in the engineering structure design.
Whether optimizing existing designs to reduce mass, or quickly gaining insight on new projects, Topology Study offers designers many new options to speed the development of highly optimized products.

Many designs are required to have more constraints than stiffness and weight. We can see many designs fail due to vibrations.
Topology Study in SOLIDWORKS SIMULATION 2019 includes a Frequency Constraint to insure the resulting topology will meet your design's vibration requirements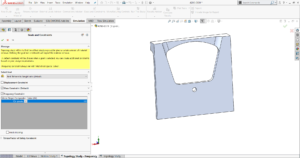 Users can specify a single or multiple mode shapes and have options for frequency ranges to stay within or exclude.
Besides, users can specify Stress or Factor of Safety constraint to insure the resulting topology will meet the design goal.
we can quickly visualize the resulting topology differences with and without adding minimum frequency constrain.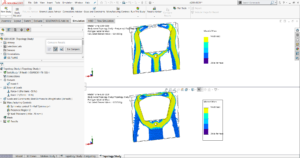 Finally, the smoothed mesh results can be directly exported to a solid mesh body for easier use in downstream processes.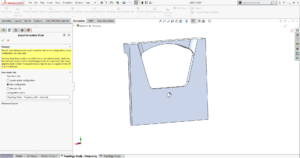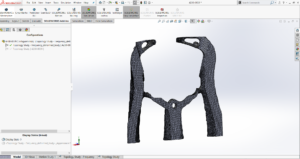 With Topology optimization in SOLIDWORK SIMULATION 2019, finding the ideal shape to meet your design requirements is easier and faster than ever, speeding the design to manufacture process.
We Urge You To Call Us For Any Doubts & Clarifications That You May Have. We Are Eager to Talk To You
Call Us: +91 7406663589