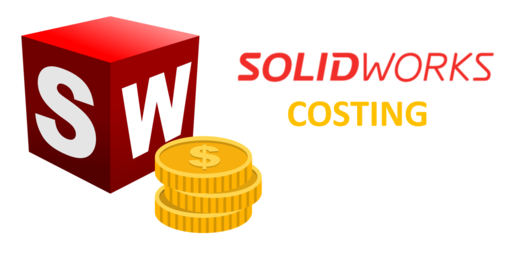 SOLIDWORKS Costing helps the designer to estimate part manufacturing costs and generates quotes. Costing is available for machined parts and sheet metal. SOLIDWORKS automatic Costing Tool generates estimates of part manufacturing cost that updates whenever you modify your design to meet the ensured profit goals. Manufacturers can automate their quoting process. Costing templates are easily customizable and allow you to enter the specific manufacturing data and its cost such as material, labour, setup costs, machine speed and feeds.
Benefits of using SOLIDWORKS Costing: 
Quick and Fast cost estimation.
Accurate results.
Customizable Templates
Automatic Cost Update
It can be used for Machining, Casting, 3D Printing, Plastic and Structural Members.
What if I have some special requirement!
You can setup the custom rules in the template for governing some special geometry cases.
How to setup Unique Rules for Machining in Costing?
We can setup some unique rules in the Costing template for some special requirements like:
IF milling operation is selected THEN multiply Step Over Percentage of feedrate(f).
Step1: First open a machined part and click Tools > SOLIDWORKS Applications > Costing.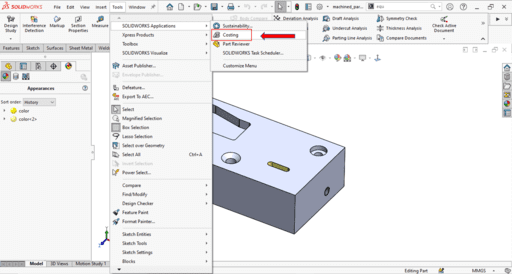 Step 2: In the Task Pane, in Costing, Under Method, select Machining. Then click on Launch Template Editor.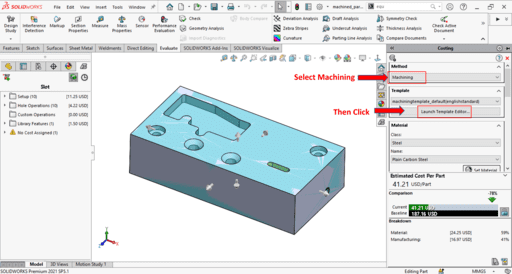 Step 3: In the Costing Template Editor, select Rules.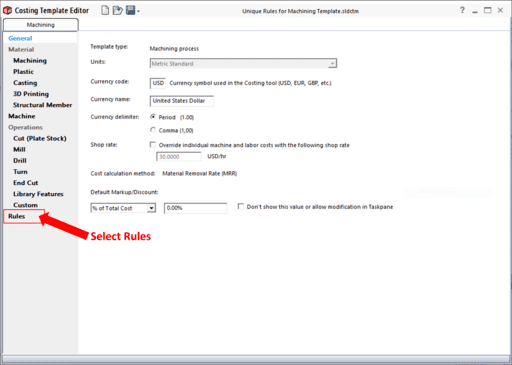 Step 4: Under Name, type a Rule name and under Category select IF/THEN. Under Structure, select IF milling operation is selected THEN multiply Step Over Percentage of feedrate (f).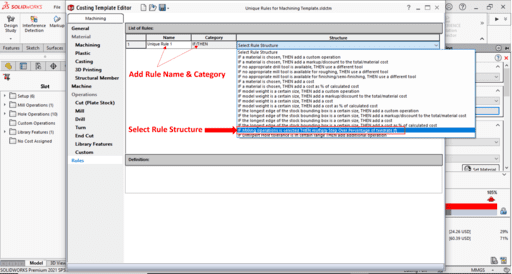 Step 5: Under Definition, click Rule Input> Select an Operation> Roughing/ Semi-Finishing/ Finishing. Click on Ok.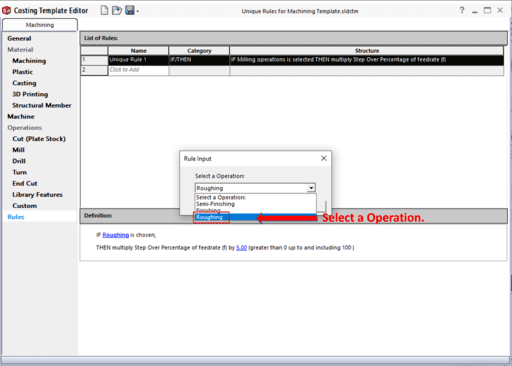 Step 6: Under Definition, In the Rule Input dialogue box, Enter percentage value between 0 to 100% (That to be multiply by Step Over Percentage of feedrate (f)). Click OK.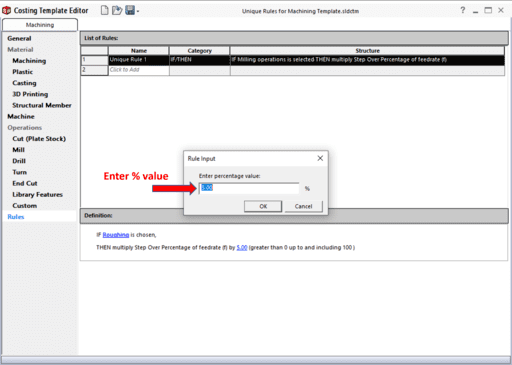 Now Save the Template and check the Result of Machining Cost in Costing tab in Task Pane.
We can set some Costing value as Baseline to do the comparison with the different value we will be getting by changing the Rules definition in the Template.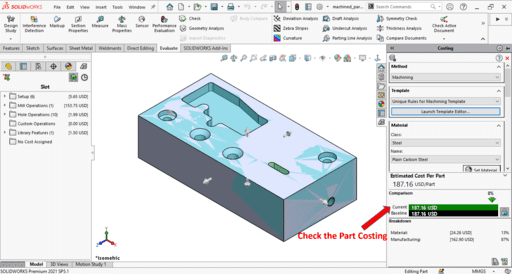 In Similar way we can check the Costing of Machining the part for different type of Operations like Roughing, Semi-finishing or finishing. And by varying the percentage value that to be multiply by Step Over Percentage of feedrate (f)).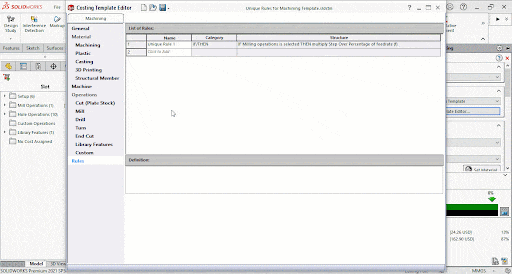 Depending upon the Cost of machining we will be getting, we can select the suitable machining operation and Step over percentage feedrate value as per our requirements.
We can follow the similar steps mentioned above for setting-up other Unique Rules in Machining in the SOLIDWORKS Costing like:
If DimXpert Hole tolerance is in certain range then add additional operation.
USE the plate stock body type IF the bounding box is a certain size.
We Urge You To Call Us For Any Doubts & Clarifications That You May Have. We Are Eager to Talk To You
Call Us: +91 7406663589