Pre-processing of any FEA project is always a tedious, and time-consuming task to be performed before going for the run, no matter which simulation tool we are using. This is the step where most of the intensive work is completed and end results are very much dependent on this step as we characterize mesh definition, loading conditions, boundary conditions, contact conditions, etc. in this step.
In the SOLIDWORKS Import study feature option, we can import some of the simulation features that are already defined on a part or sub-assembly into a new static study created on an assembly where instances of that part or subassembly are present. Now, the question is how this tool is helpful and where it will help us. Imagine any structure to get an answer to this question. For example, Mast Structure, industrial rack used in material handling systems, support structures, where the model consists of multiple instances of the same sub-assemblies/components.
Here, we have a sample example for your reference.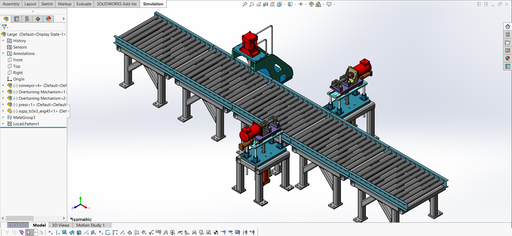 This is an industrial conveyor used in material handling systems and to be simulated for the static load carrying capacity at that instant. If we observe, this model consists of multiple instances of conveyor frames.
Now, the next step is to define contact conditions, connections, loading, and boundary conditions for one of the instances in the assembly as mentioned earlier. In this structure, we will treat conveyor frame members as 1D elements, as shown below, for the sake of simplicity and to reduce solver time. The below image shows the loading scenario and fixtures are applied at the base plate. (It is assumed to be base plate is fixed to the ground and all 6 DOFs are locked). These BCs and LCs, contacts will be the same for the remaining patterned instances. So, now we will use the "Import Study Feature" tool to automatically propagate all these simulation features to the remaining instances in the assembly.

While creating a simulation study at the assembly level, right-click on the study and select the fourth option "Import Study Feature" and a new window will pop up. We can import the simulation features like body types (solids, shells, and beams), contact, material, fixtures, connectors, loads, and mesh control settings from static studies. The option "propagate imported study features to all instances" must be checked so that software will propagate the selected study features to all instances.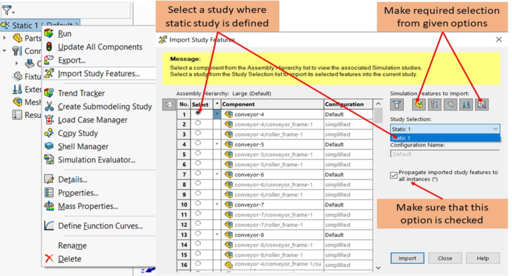 Bingo!! The simulation study has been solved, and the results are ready for further investigation. In this way, we can reduce overall activity time and have a cup of coffee in tranquility.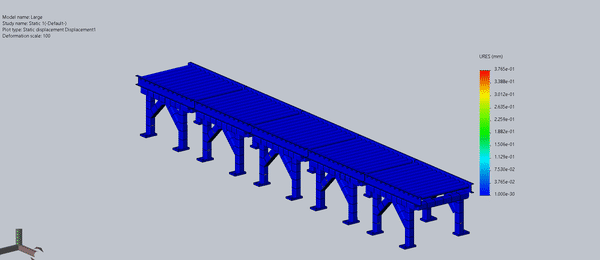 We Urge You To Call Us For Any Doubts & Clarifications That You May Have. We Are Eager to Talk To You
Call Us: +91 7406663589