This blog goes through the options that are available with SOLIDWORKS Electrical Professional. We peek into the SOLIDWORKS Electrical Connector which allows you to share metadata between your SOLIDWORKS PDM and your electrical projects. Data cards can be populated with these properties from either SOLIDWORKS PDM or your electrical project. A "Where used" option is also available to identify the parts in your electrical projects and identify which other projects contain those same parts.
Methods of integration
There are two main methods of integration if we collaborate SOLIDWORKS Electrical with SOLIDWORKS PDM:
1. Use "Update files for PDM" button
2. Use "Check In/Check Out" button
In this blog, we explain method 1.
Method 1: Use "Update files for PDM"
In our SOLIDWORKS Electrical Schematic, click on "Tools" tab and select the option shown in the screenshot below.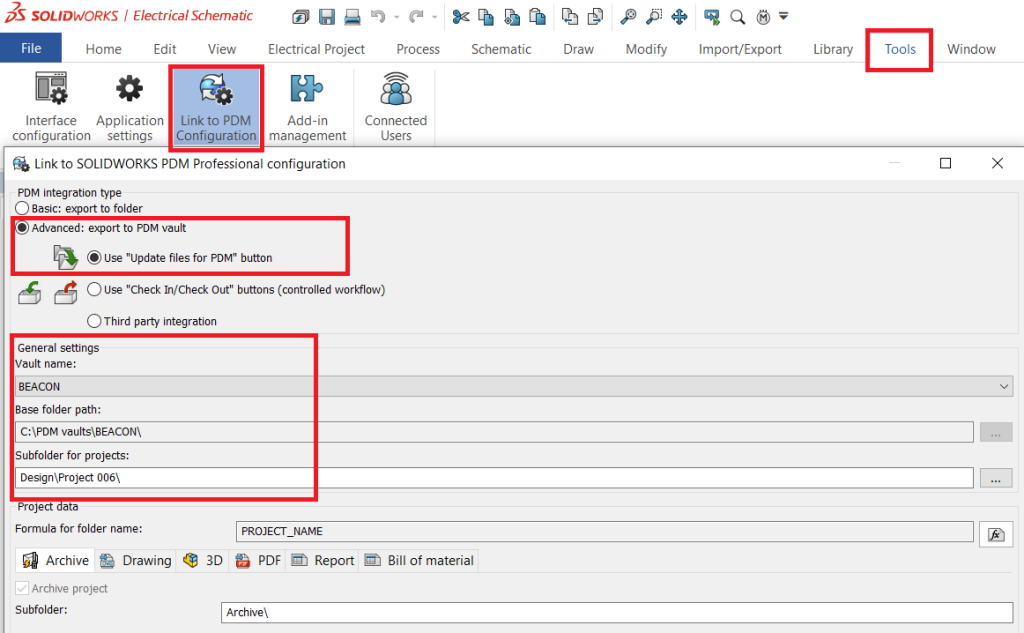 In the general setting option, we can select the vault, path, and subfolder before exporting the project. You can create the subfolder at the time of exporting.
Click OK.
Select the project from Electrical Project Management and click on "Update files for PDM" as shown in the below image.

Once we click on this exporting process will start and the data will be saved into the selected PDM vault subfolder.

Now we can check that all exports (PDF, BOM, DWG/DXF, Archive, 3D) will generate automatically in one click.
Also, if we make changes to the existing project and the changes will reflect in the same vault and all documents will be replaced with changes after clicking on "Update files for PDM".
We Urge You To Call Us For Any Doubts & Clarifications That You May Have. We Are Eager to Talk To You
Call Us: +91 7406663589