NETVIBES solutions on the 3DEXPERIENCE Platform help customers reveal information intelligence. Today's fast-paced, the connected world generates exponential amounts of data inside and outside the enterprise, 24/7. With NETVIBES you can make sense of it all by gaining actionable insights to make informed decisions. An increase in industry innovation, boost operational excellence, and improve business performance to stay ahead of the competition.
Leading companies worldwide rely on NETVIBES data discovery solutions to search, reveal, and manage their information assets for faster, real-time unified data access, smarter decision-making, and improved productivity.
Netvibes Metrics Reader allows you to create a chart based on a dataset of yours that you must import during the configuration of the widget.
Metrics Reader is a public cloud dashboard app that offers the following key capabilities:
Chart the data from your own datasets.
Analyse the chart.
Compare charts.
Metrics Reader can be used in conjunction with 3DDrive, Social Analytics, and Potion.
When you add a Metrics Reader widget to your dashboard, you must configure it with your own data set so it can display a chart.
You can edit the configuration of any Metrics Reader widget you have configured yourself.
You can Import your own data (.CSV or .XLS) to analyze trends and discover insights using customizable charts and graphs.
The task shows you how to:
1- Select data type
2- import data
3- Select Range
4- Customize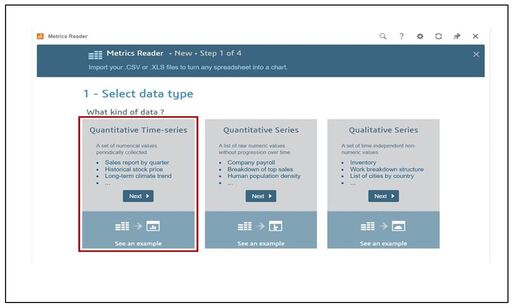 1. Select data type
Quantitative Time-series
Quantitative Series
Qualitative Series
Quantitative Time-Series
To import a set of numerical values collected over a regular interval of time. We will be looking in
detail at the Quantitative time-series
2. Import Data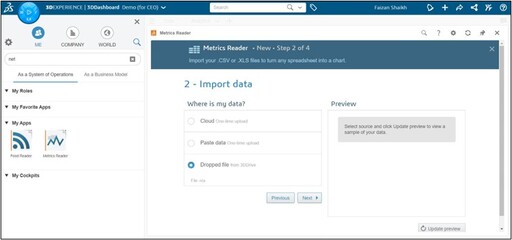 There are three options for importing the data
i. Cloud (One time upload)
It would be one time-upload where you can fill the File URL with Login ID and Password
Select Cloud and enter the URL of a file hosted on the cloud. If access is protected, enter your credentials.
Note: Your 3DEXPERIENCE Platform must have access to the internet if the URL you entered points to a resource that is located on the internet.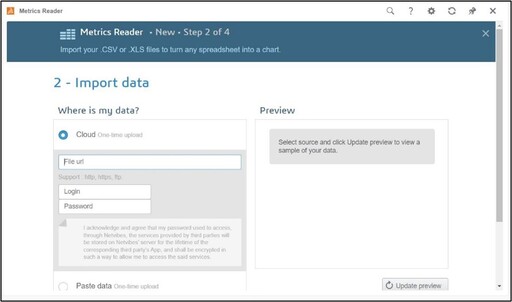 ii. Paste Data
Select Paste data and paste the data you have copied into your clipboard.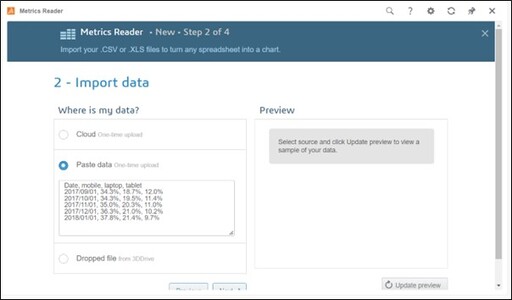 iii. Dropped file
Select the Dropped file and drag a file from your 3DDrive (3DDrive is the storage application that sits on the 3DEXPERIENCE Platform. As a basic comparison, it is similar to Dropbox, Google Drive, OneDrive, and in fact, these three programs can also be integrated into 3DEXPERIENCE.)
Also, it has an advantage if you open that dropped file from 3DDrive and edit it the Charts will update automatically.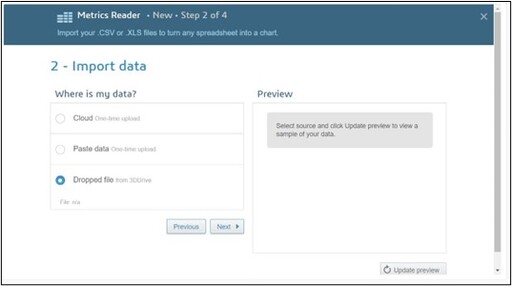 3. Select Range
Here you can select a column and import the time zone, specifying the date column and finally date format. On the other hand, you can show results as Sum, Average, Maximum, and Minimum.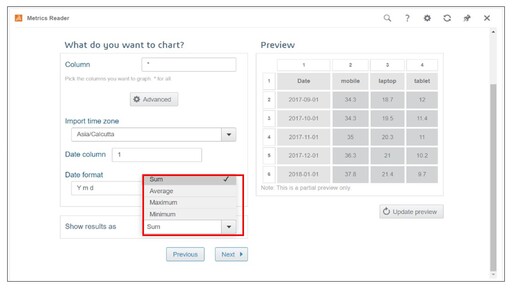 4. Customize
In the design tab, you can edit the series of your products with Forecast, Smoothed curve, Linear regression, total, and time zone. Also, you can specify the name and Source URL in the Credits tab then Select the Chart type as shown in the image.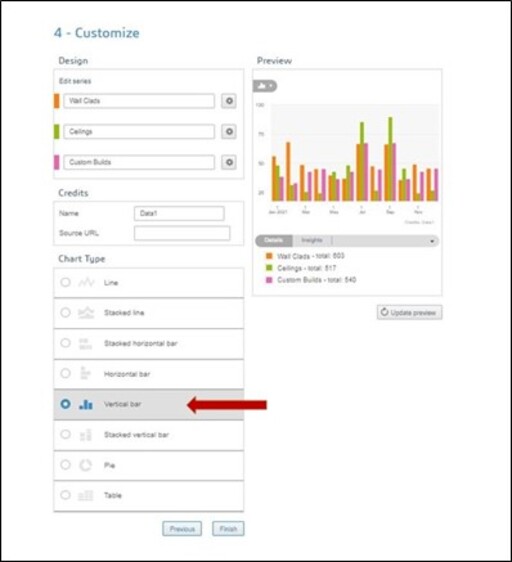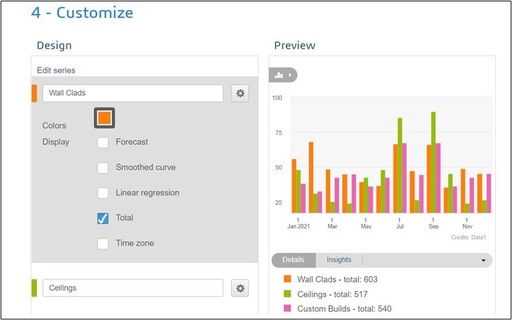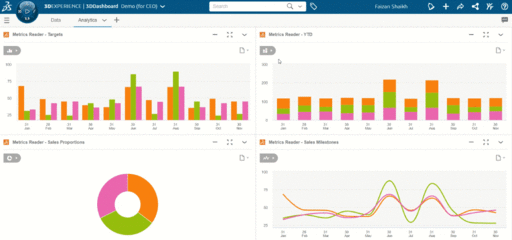 It is a personalized dashboard helping millions daily to monitor, personalize and publish all aspects of their daily digital lives. You can have different Chart types based on the requirement of your company and set many Metrix readers on the required tab in the dashboard that would cover all the necessary data of your company under one page.
Quantitative Series
To import a set of non-numerical values that are associated with a numerical value.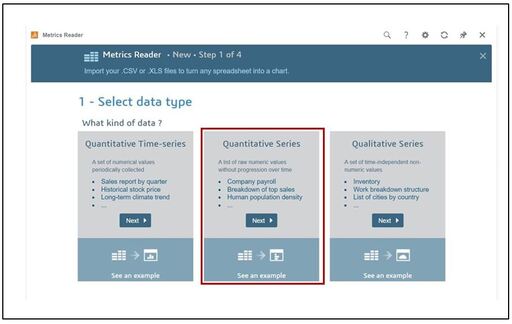 Click on Next > Select any of the types depending upon your requirement.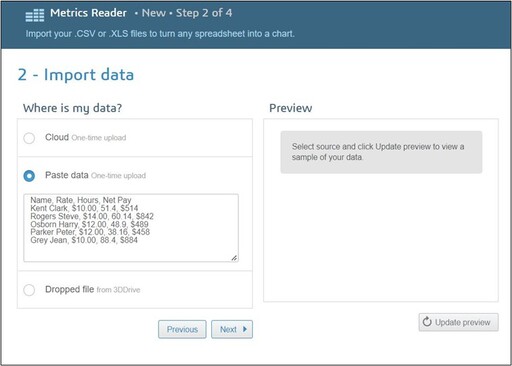 Click on Next > Select Column Index from the drop-down list > Similarly Show results as Sum/Average/Maximum/Minimum.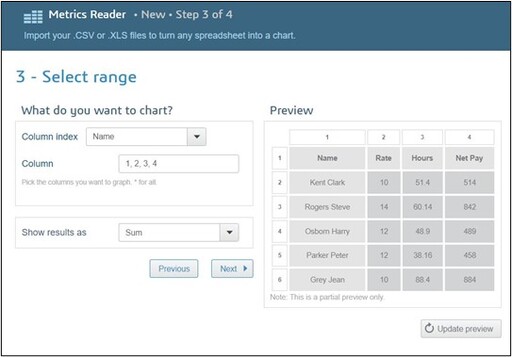 Click Next > From the Customize tab > Edit series > Type the name or Source URL in the credit's tabs
Select the Chart type > Finish.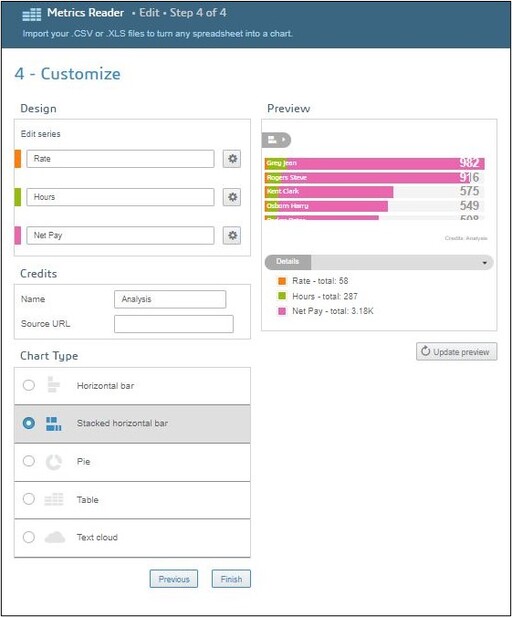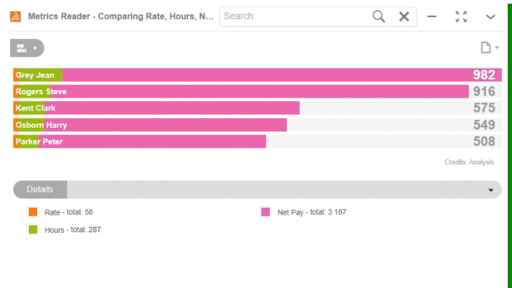 Qualitative Series
To import a set of non-numerical values.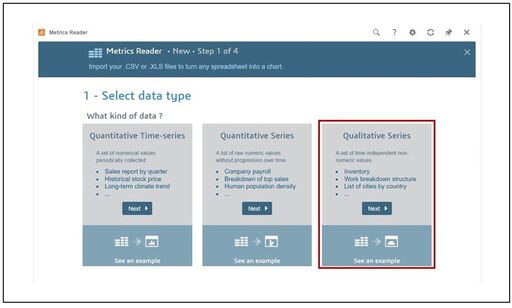 Click on next > Import data > Select any one of the import option > Next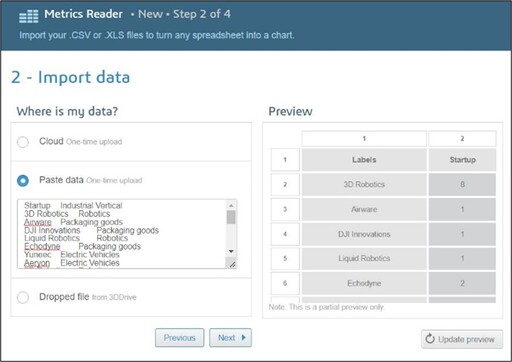 Under Select range tab > Select column range from the drop-down list then click on next.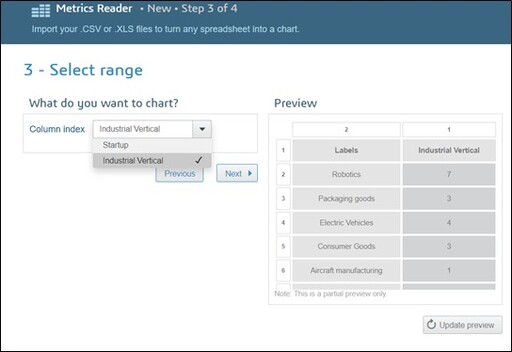 After adding the details in Design, Credits, and Chart type click on finish.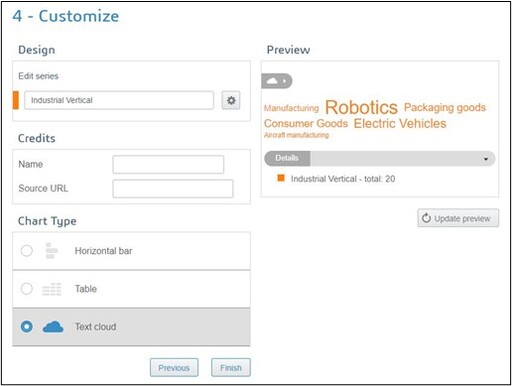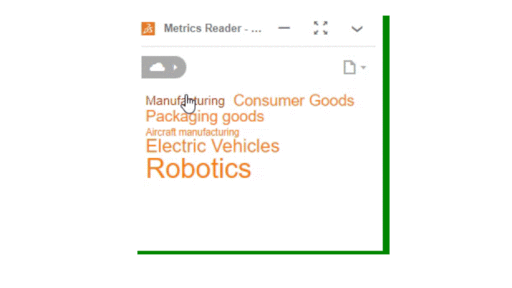 You can select any type of data and create charts based on your requirements. Below is the Difference between the type of data.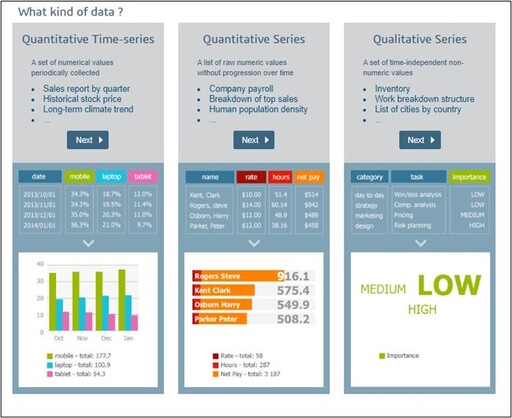 Basically, it would help you in replacing the traditional method of analyzing the excel files of your data which leads to errors, and which is very time-consuming. Also, it is easily accessible from anywhere, anytime and on any device just you need to log in to the platform and access it.
We Urge You To Call Us For Any Doubts & Clarifications That You May Have. We Are Eager to Talk To You
Call Us: +91 7406663589