In the fast-paced world of business, efficiency and automation are key factors for success. In order to streamline various business activities such as review processes, approvals, and comments, the Route Management feature in ENOVIA and the 3DEXPERIENCE Platform proves to be an invaluable tool. By utilizing routes, users can automate their business processes, ensuring tasks are completed promptly and accurately.
Routes in the 3DEXPERIENCE Platform encompass a series of tasks that need to be accomplished to fulfil a specific business activity. Whether it's obtaining approvals for a new product design or gathering feedback on a marketing campaign, routes provide a structured approach to managing these activities. This not only saves time but also ensures consistency and traceability throughout the process.
One of the key advantages of Route Management is the ability to create route templates. These templates capture existing business processes, allowing users to replicate them effortlessly whenever needed. By leveraging these templates, organizations can establish standardized procedures for various tasks, promoting efficiency and reducing the likelihood of errors. This repeatable approach empowers users to initiate and execute their workflows with ease.
A crucial aspect of routes is the ability to add content that assists the route members in completing their assigned tasks effectively. The content can be in various forms, such as documents, images, or even data from other applications. Adding content to a route is a straightforward process – simply drag the desired content from the search results or any other application and drop it into the route's 'Content' tab or directly onto the route itself. This ensures that all relevant information is easily accessible to the route members, facilitating smoother task execution and reducing the chances of errors or miscommunications.
We will see in detail how processes/workflows through Route Management
Simply under Collaborative Industry Innovator drag and drop Route Management widget on the Dashboard tab.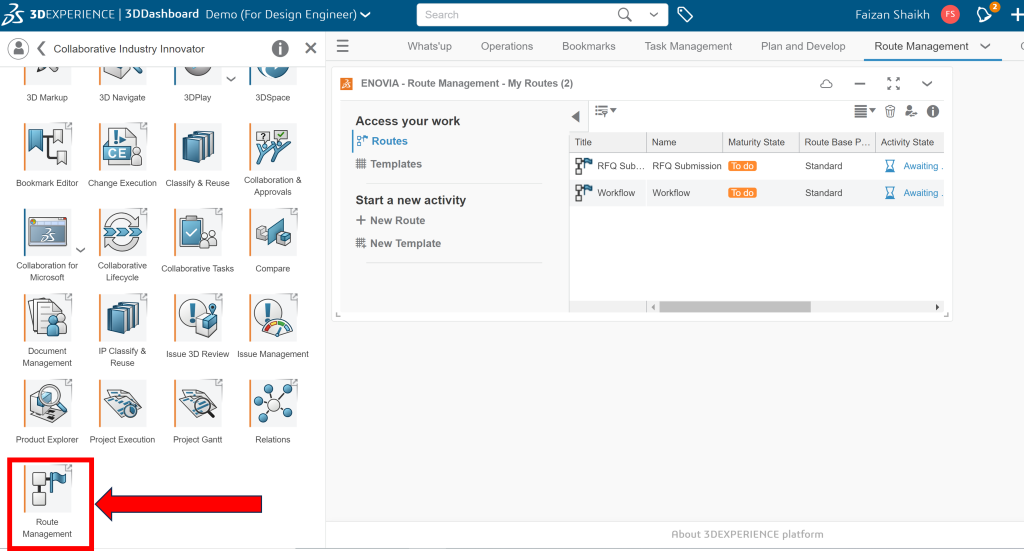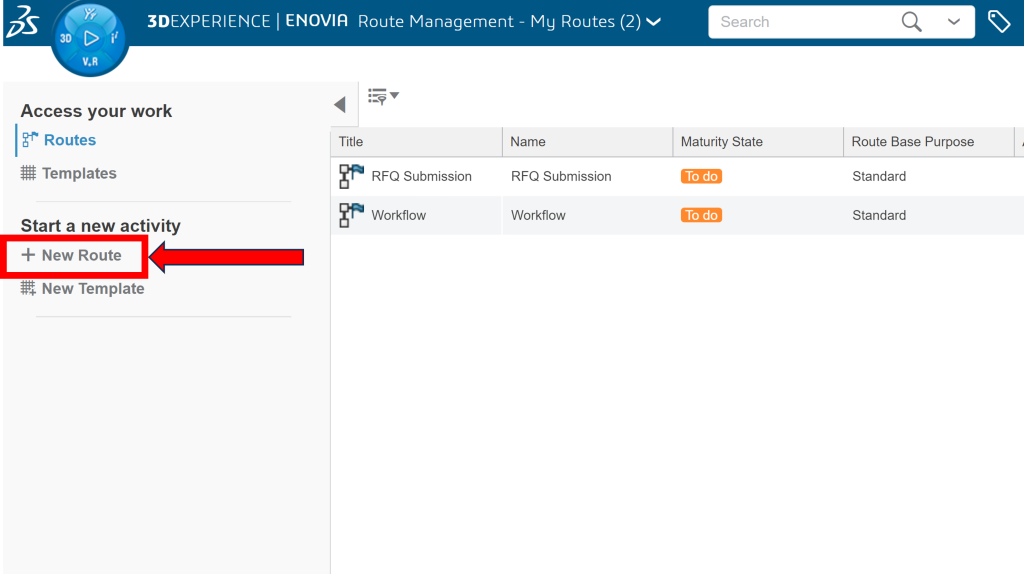 Click on New Route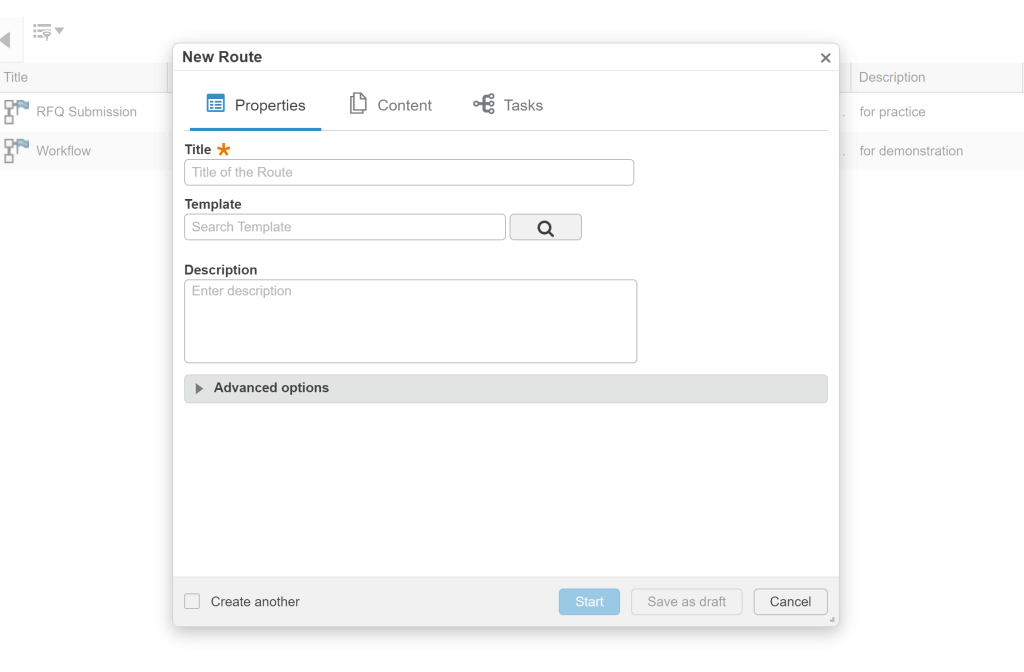 This dialog box will appear. Click on properties tab > Specify Title > Specify Description > Click on Advanced option > Select Route Base Purpose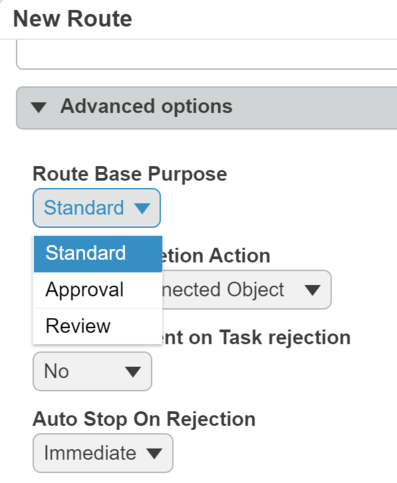 Under Route Base Purpose
Standard: The route can include tasks that require the assignee's approval or comment, or tasks intended only for notification or information.
Approval: The route includes only tasks that require assignee's approval.
Review: The route includes only tasks that require assignee's comment.
Route Completion Action
Notify Route Owner: When all tasks are completed, the system sends a notification to the route owner.
Promote Connected Object: The system automatically promotes the object when the route is completed, assuming no other routes or requirements are blocking promotion and the route owner has promote access for the connected objects. The route owner is also notified of the route completion. If you have already added content to the route, you can only select this option if the route owner has promote access to that object.
Demote Connection Object
| Option | Description |
| --- | --- |
| Yes | The route content is demoted if the route is stopped when the approval task is rejected. |
| No | The route content is not demoted. |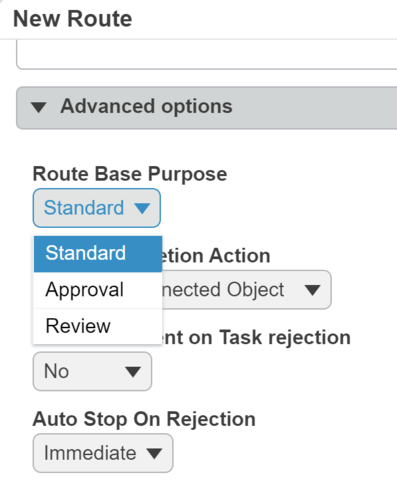 Auto Stop on Rejection
Immediate: The Route stops immediately
Deferred: The route stops after other tasks at the current level are completed or rejected.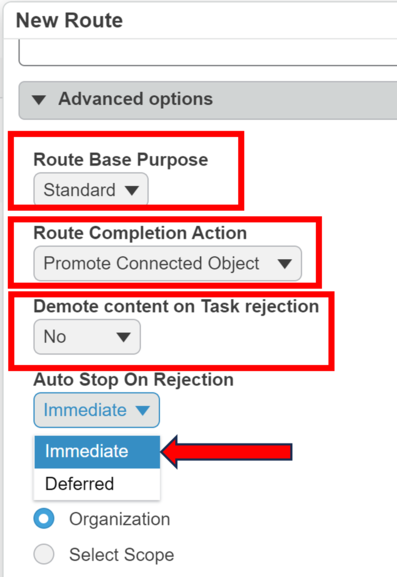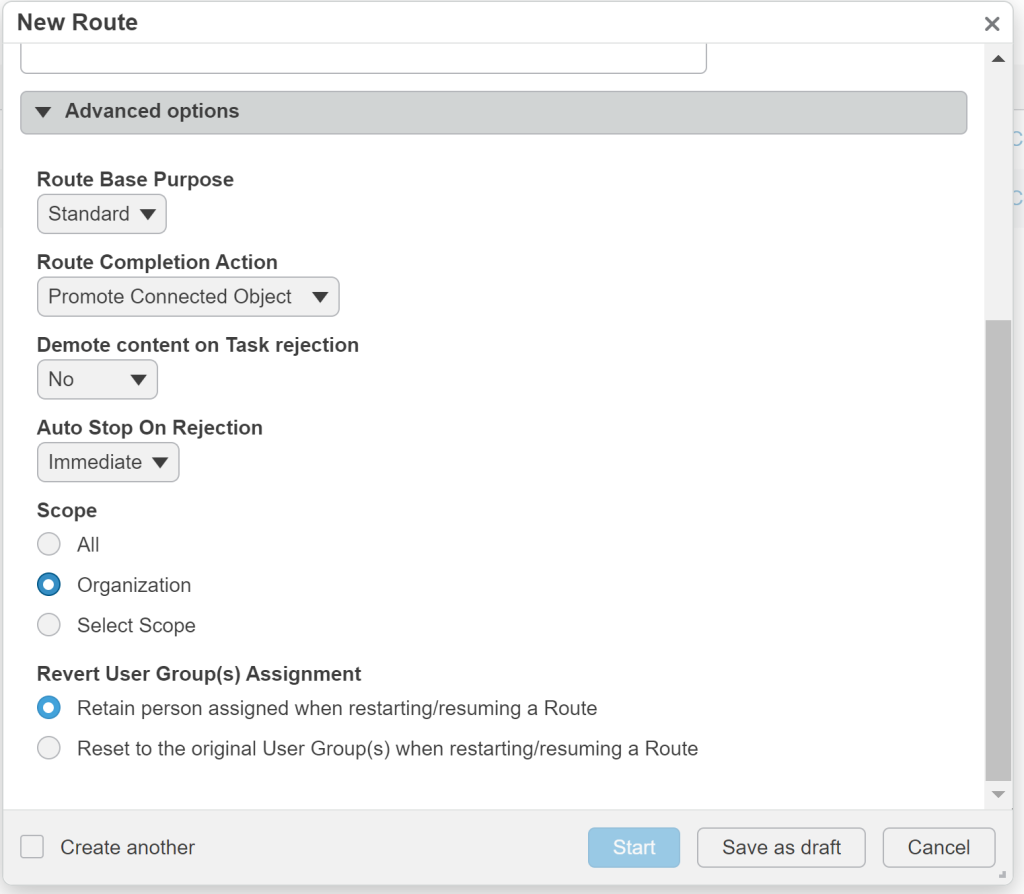 Then click on content tab where you can add contents to review.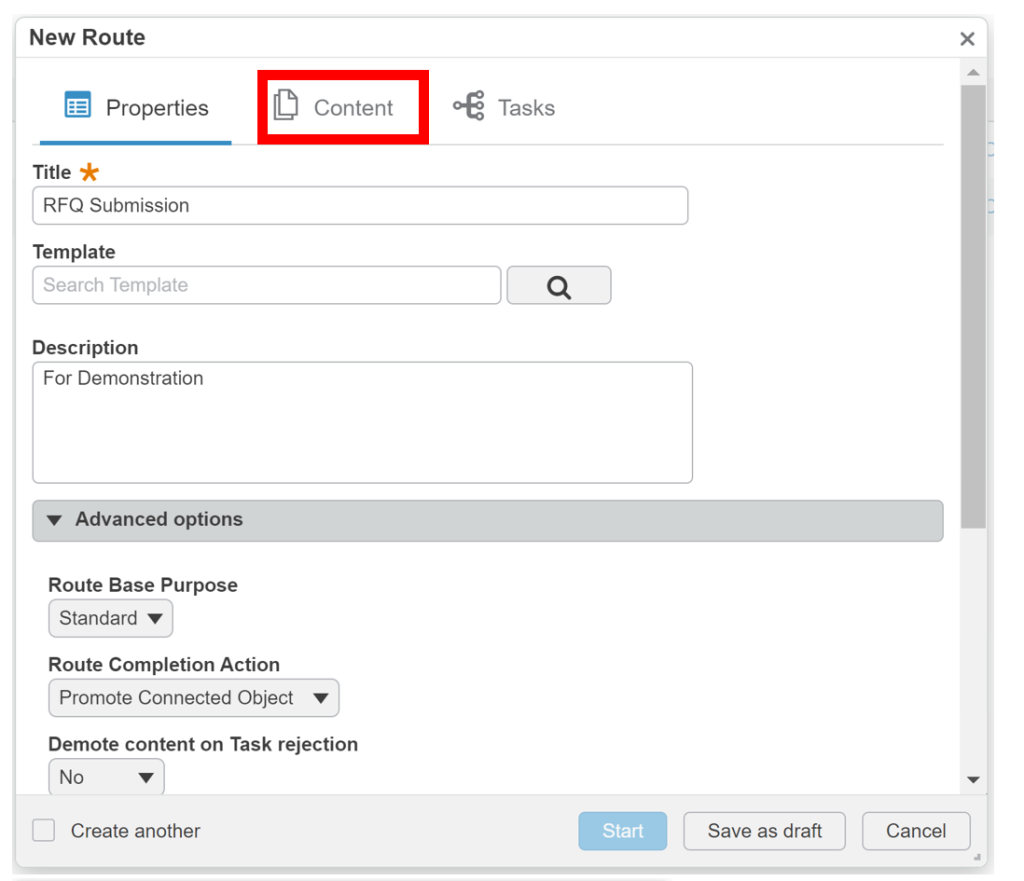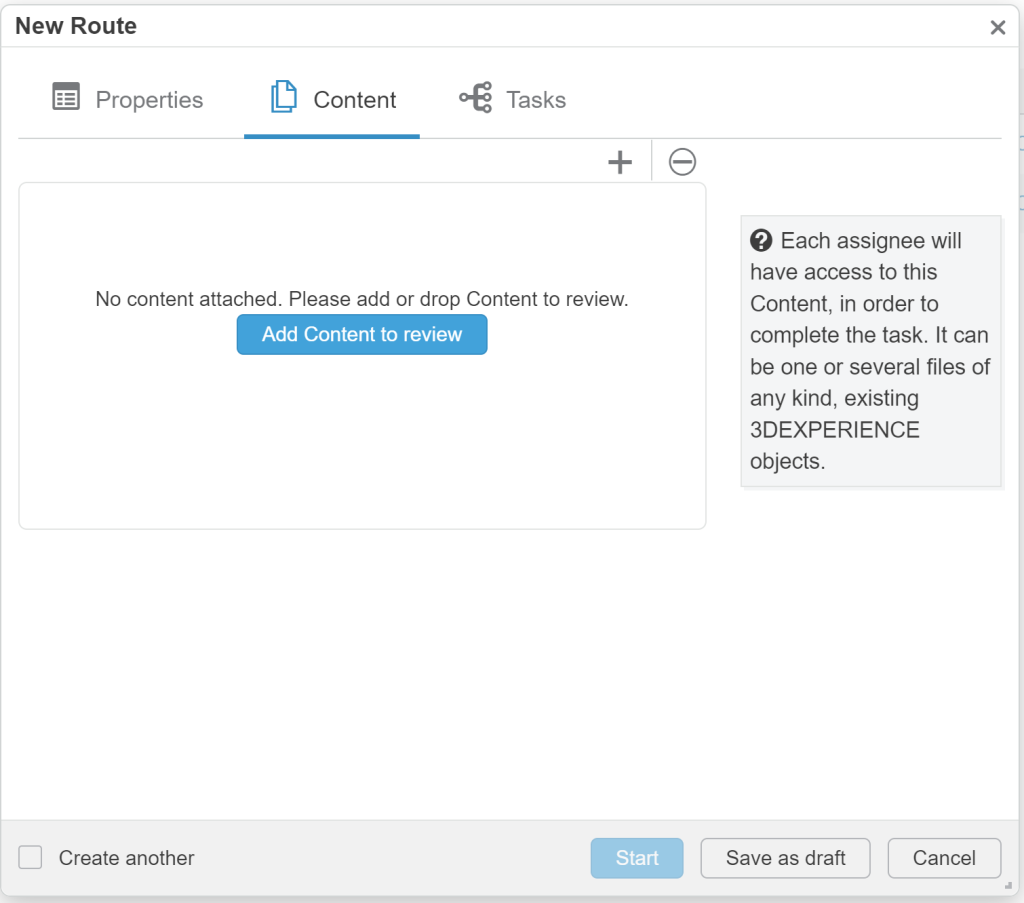 Then click on tasks where processes can be defined as shown below.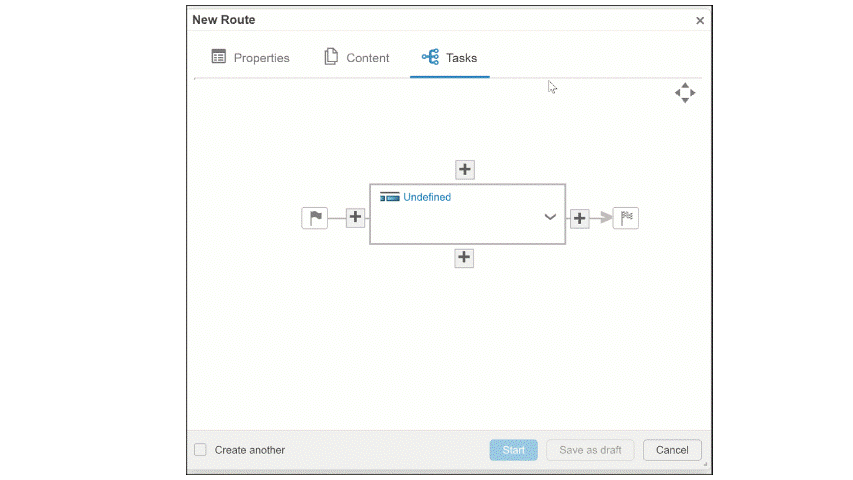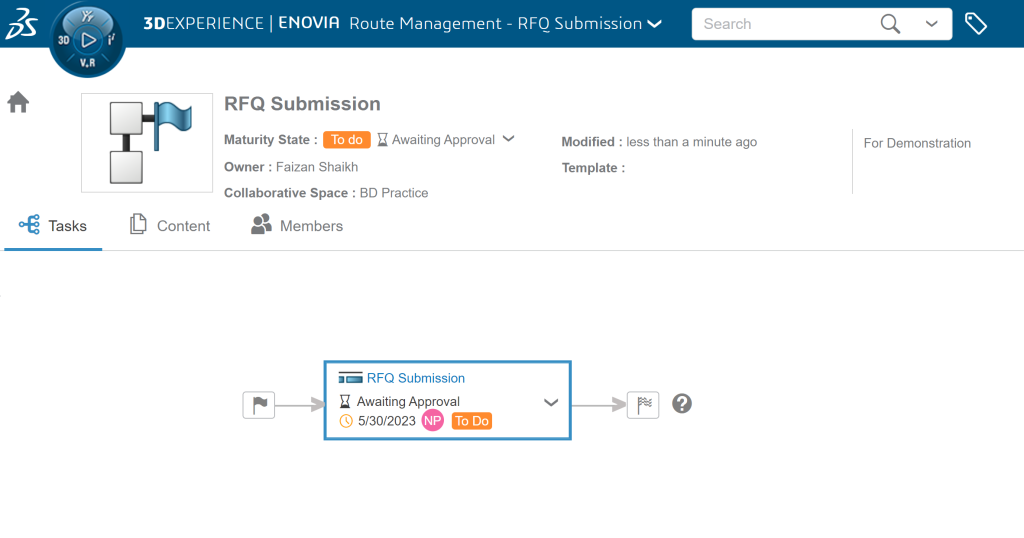 Notification will appear to the assignee as shown below.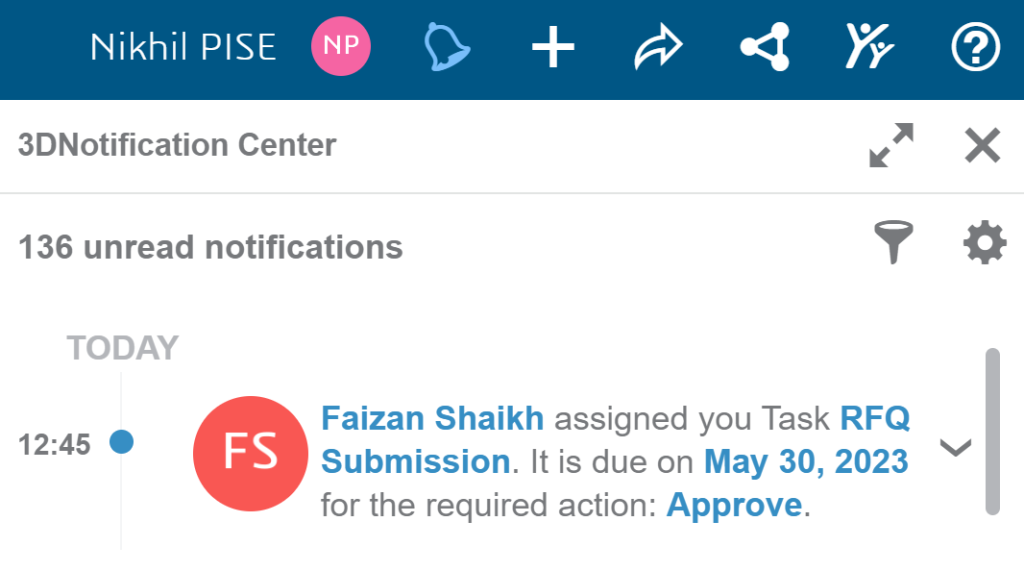 Now we will observe how processes can be defined and implemented.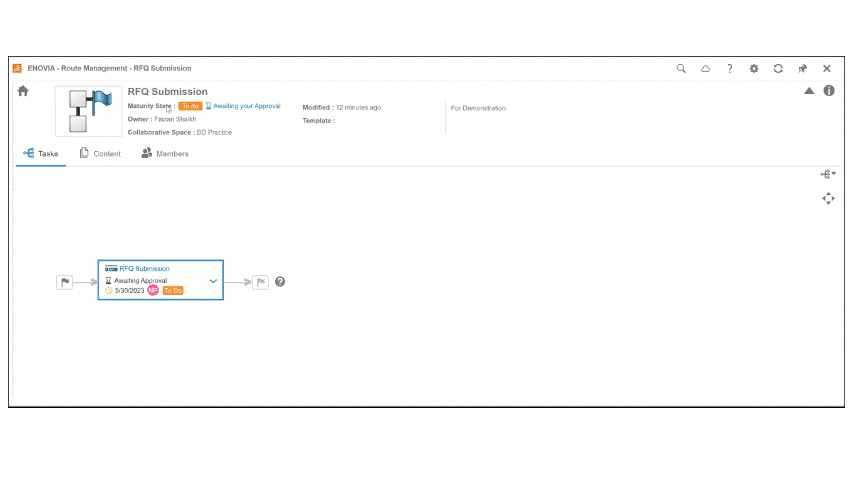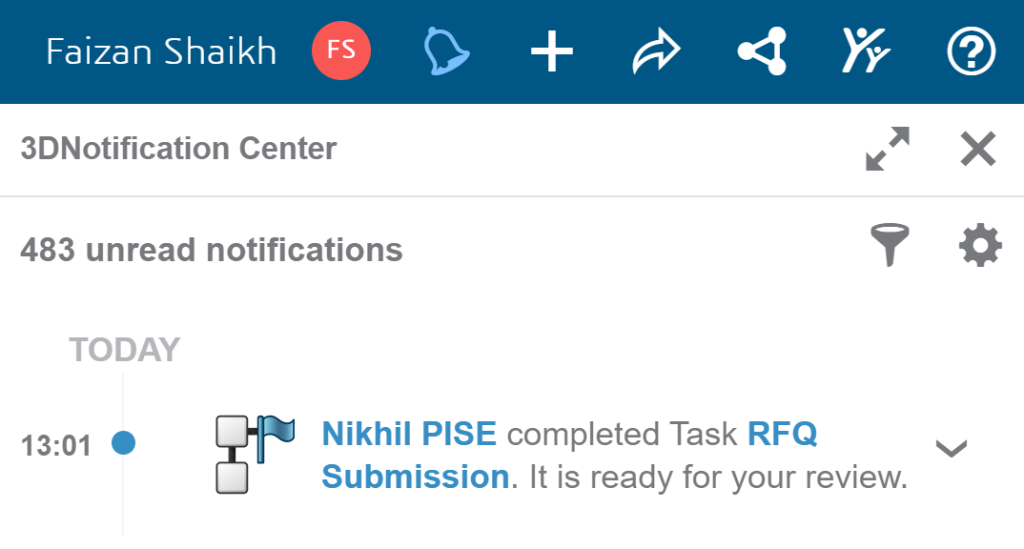 Now we will see Expected action as Notify only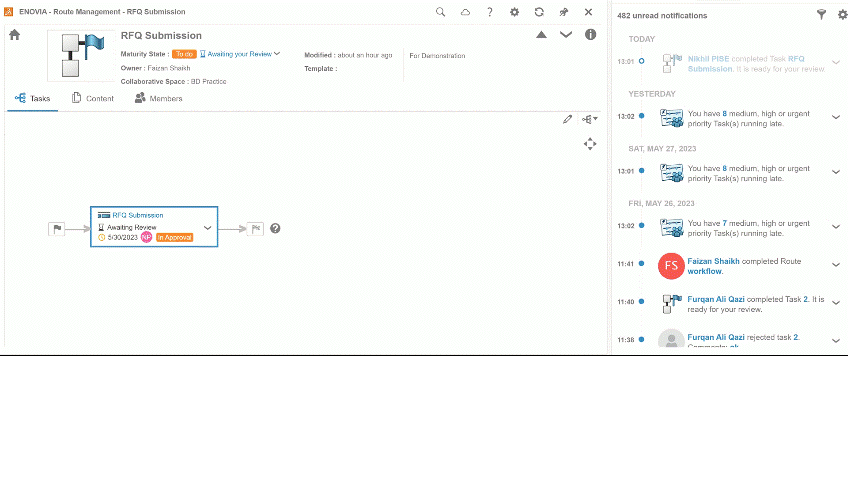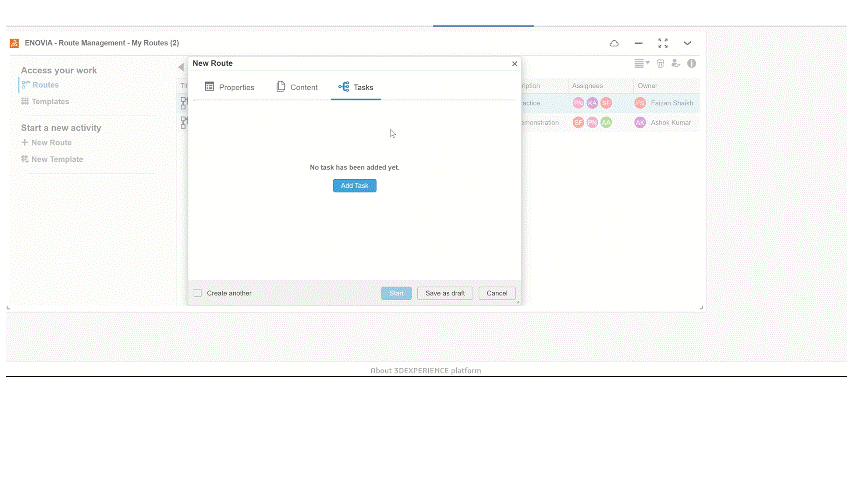 Now we will see comment as expected action.

Route based purpose as APPROVAL.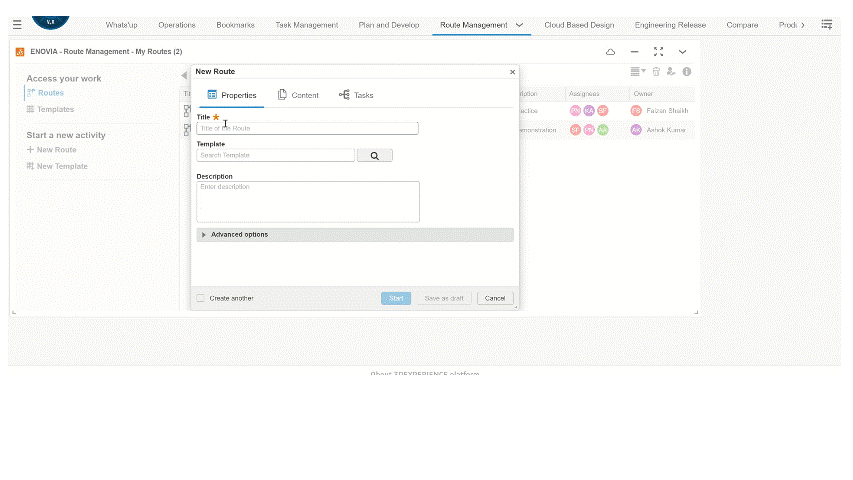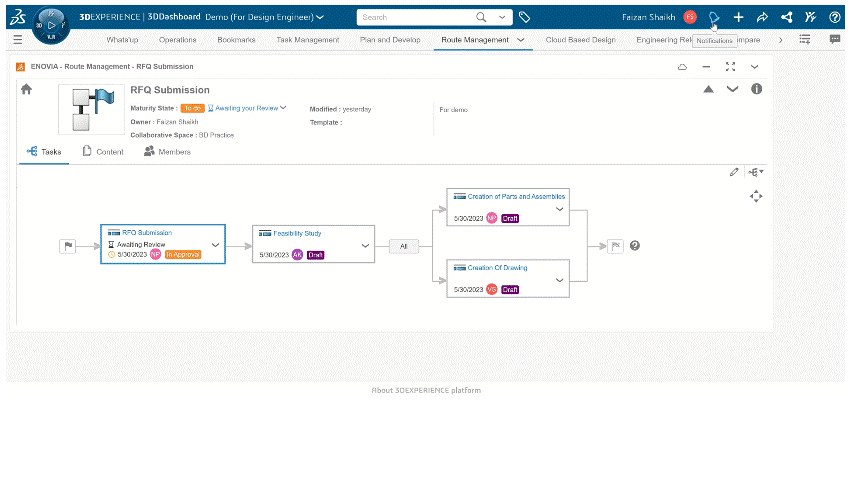 Similarly, once it is approved the next process will get activated and the assigned person will get the notification.
In conclusion, Route Management in ENOVIA and the 3DEXPERIENCE platform offers an effective solution for automating and managing business processes. With the ability to create route templates, users can capture and replicate existing processes, promoting consistency and efficiency. The intuitive 'Route Management' widget allows for easy customization and administration of routes, while the inclusion of content within routes ensures that route members have all the necessary information at their fingertips. By adopting Route Management, organizations can optimize their workflows, enhance collaboration, and drive overall productivity.
We Urge You To Call Us For Any Doubts & Clarifications That You May Have. We Are Eager to Talk To You
Call Us: +91 7406663589