In schematic/line diagram, each electrical symbol has a default root value assigned to it within the SolidWorks Electrical. This root value can be anything from A to Z. In some cases, you might have thought of changing the default root value to the required company's standard.
Each time the symbol is inserted into the schematic/line diagram, root value has to be changed manually by right-clicking on the  flow like given blow
Symbol >  Symbol properties >  Select automatic mode and enter the root value.
This change made is applied to the current symbol and whenever we insert the same symbol again into the schematic/line diagram, the root value must be changed again unless it is added to the library by right-clicking on symbol> add to library.
For instance, I will change the root value of the contactor 'K' to 'Con' as show below.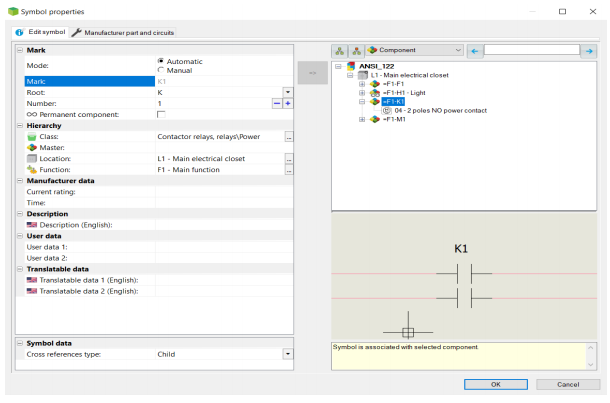 Before changing the root value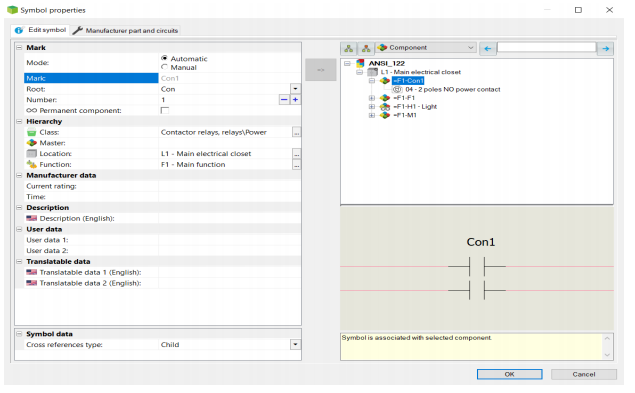 After changing the root value by manual way in automatic mode
Steps to permanently update the automatic root of symbols:
Step 1: To permanently update the root value in the library: Go To Command manager > Classification manager.
Classification Manager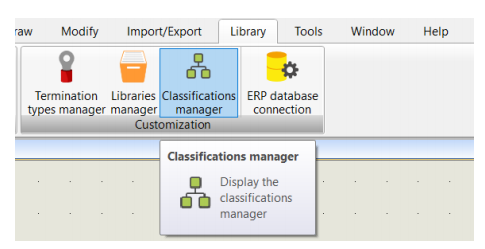 Classification Manager
Step 2: In the classification manager, the root column should be shown by default. If it's not shown, click on any of the leader column and toggle on\off the columns you want to see.
Toggling on/off the columns
Step 3: Locate any Class within the list of Classes> Right click on the Class> Properties> Change the Root Value.
For instance, Change the Root field of Contactor relays, Relays Class from 'K' to 'Con'.
Changing the root field of the main class automatically updates the root value for all the subclasses within this class.
As this information has been saved in the library that exists at the application level, the root value will be used as 'Con' for the symbols in the Contactor relays, Relays Class.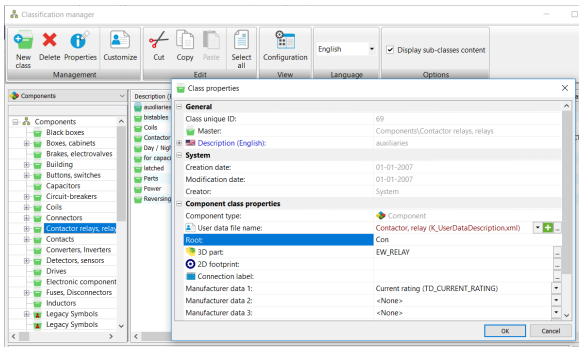 Updating Root in the Library at application level
We Urge You To Call Us For Any Doubts & Clarifications That You May Have. We Are Eager to Talk To You
Call Us: +91 7406663589