SOLIDWORKS Visualize is a tool used for enhancing your 3d -Cad data into photo quality-images, animations & interactive 3d- content which not only makes your product attractive also brings them to life
Now SOLIDWORKS Visualize offers you various output tools which can be used to decide type of the rendered output required. You can decide between various formats and settings for the rendered outputs.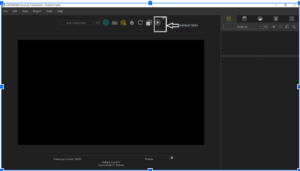 Fig.1. Location of output tools in SOLIDWORKS Visualize Interface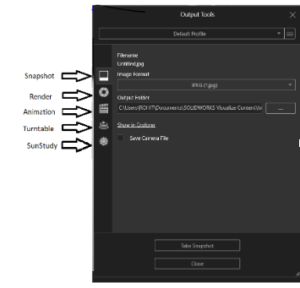 There are 5 types of output that can be achieved viz. as mentioned:
Snapshot:
In Snapshot the viewport is captured its far better than a normal screenshot and even we can adjust the formats required i.e. you can have Tiff (.tif), Jpeg (.jpg), Png (.png), Bmp (.bmp), Adobe Photoshop (.psd) & OpenExr (.exr)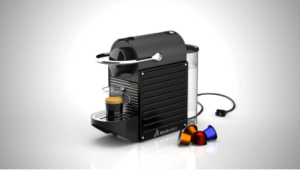 2. Render:
              In Render you can adjust the format i.e. you can have Tiff (.tif), Jpeg (.jpg), Png (.png), Bmp (.bmp), Adobe Photoshop (.psd), OpenExr (.exr) & Radiance Hdr (.hdr). We have several output modes i.e.

Render: it produces a single image using the current camera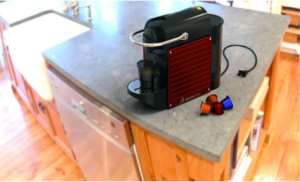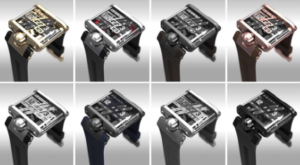 Panoramic: Takes an image cube. (An image cube is six images taken from the same location, pointing at 90º angles from each other). It stitches the six shots together to form a 360º panorama around the camera. Then it outputs an HTML file and stores content images in a subfolder so you can view the panorama in any browser. You can pivot and zoom (not pan) the camera in the browser. This is convenient for interior spaces, and you can use it with all render modes.
Interactive Image.

Takes several stills from dozens of camera locations in multiple orbits to support the ability to move around the output model in any browser. Parameters include:

Orbits. Sets the number of camera height levels.
Images per Orbit. Sets the number of renders from each camera orbit.
Start Angle. Sets the lowest angle of orbit.
End Angle. Sets the highest angle of orbit.

Animation: allows to create an animation movie by rendering you can control the no. of passes, type of format
Turntable: as per the name we can easily create a turntable animation of our 3d – Cad data we can control the passes, the angle it turns, Clockwise or Anti-Clockwise, select format of output and the duration
Sun Study: it allows us to analyze the animation of sun around our 3d- Cad Data we can control the time duration, time range output formats & frames per sec

Also, we have certain modes that have predefined settings saved according to the output viz. as mentioned below: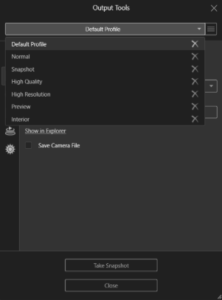 1. Default Profile: in this output mode we can control settings and change them
2. Normal: in this output mode the image format is JPEG, the output mode is render the resolution is mentioned in the image below the           render selection is fast.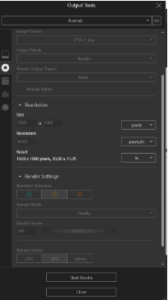 3. Snapshot: the settings are same as the above output tool of snapshot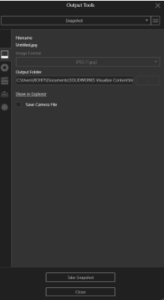 4. High Quality: its same as the normal output but the image format & render selection is changed to tiff (.tiff) & accurate resp.                  the  output passes is increased from 100 to 1000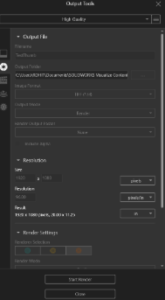 5. High resolution: its same as high quality but the resolution is changed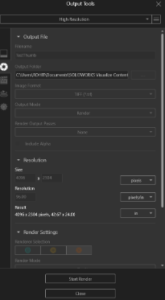 6. Preview: the settings are same as normal but render selection are set on preview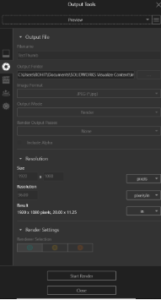 7. Interior: its same as high quality but render passes are increased from 1000 to 5000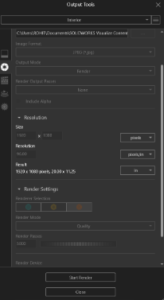 We Urge You To Call Us For Any Doubts & Clarifications That You May Have. We Are Eager to Talk To You
Call Us: +91 7406663589