In today's faster world, improving the efficiency of business operations is crucial than ever. And the quicker effective way to improve the efficiency is to follow the Lean practices. Business operation affects if the team is working remotely or it is lacking the structure and content, so implementing the Lean principles can give an immediate positive impact.
But what does it mean by Lean? Lean consists of a set of management practices to improve efficiency and effectiveness by focusing on eliminating waste and maximizing productivity, that will lead to increased profits.
In conventional practice, companies were using whiteboards and sticky notes while doing daily Lean team meetings. Also, there was difficulty while collaborating with the remote team and team members. But now in this digitalized world, we need to have some effective digital solution for it. That's where the 3DEXPERIENCE Lean Team Player comes into picture.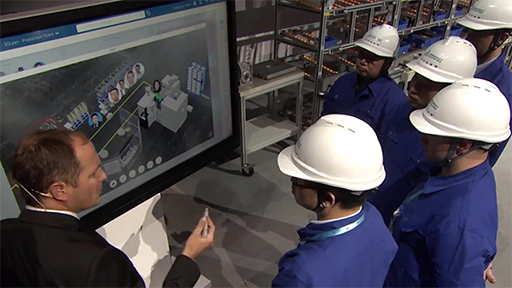 The Lean Team Player role on the 3DEXPERIENCE Platform enables managers, team leaders to create and manage daily team meetings to effectively collaborate with team members. 3DLean application in this role has reformed the normal way of doing meetings using normal whiteboards into an advanced digital cloud-based environment. In this we can create various customizable Team boards in which we have various customizable leangets to add.
Lean Team Player role help teams to engage and enhance operations by following Lean principles using dashboards, Flash 5' Meetings, creating problem logs and assigning required actions. It also offers cloud platform connectivity, document managements, interactive dynamic content integration engaging physical and remote teams.
These are several key benefits that can immediately have a positive impact on your organization by using LTR:
Streamline live team interaction no matter where or how people work. In our very remote world, staying connected and engaged in team meetings is very crucial. This role may be a cloud solution that allows teams to stay connected, even while physically separated.
Help teams communicate in engaging using interactive visualizations and graphics to discuss and work to resolve problems together more efficiently.
Work with specific required team
Specific teams are defined in Lean Team Player. Only the required team members can be involved in that specific meetings.
Discuss about the problems and actions that needs to be taken to resolve that problem. So, that actions can be assigned to the respective team members. This all information and documents can be stored in this digital environment. And later, in the next meetings can discuss about the problem and action logs in the past meetings and further future activities.
Make Lean thinking a typical part of your teams, and company culture. Using LTR to guide the adoption of Lean behaviours will empower your teams to enhance performance every meeting, every day.
So, let's see how it works,
Launch 3DLean app in 3DEXPERIENCE platform, Create Team Board with appropriate name.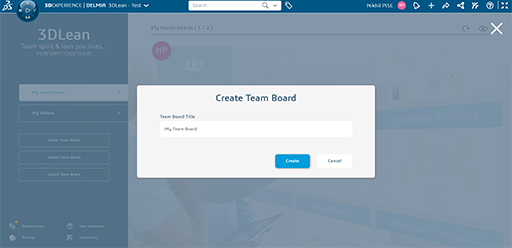 Then the blank Team Board will be created, which you can customize by adding various Leangets and Boards. In CUSTOMIZE option, you get various Leangets, you can add them into Board by just dragging and dropping onto it.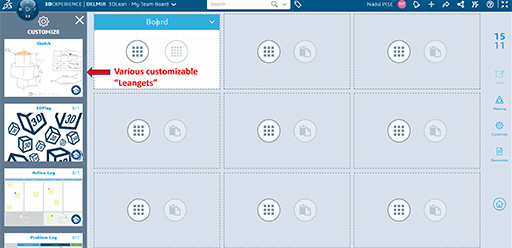 3DLean have various Leangets like Sketch, 3DPlay, Action Log, Problem Log, KPI, PDF Viewer, Picture Viewer, Team, Player, Web Page.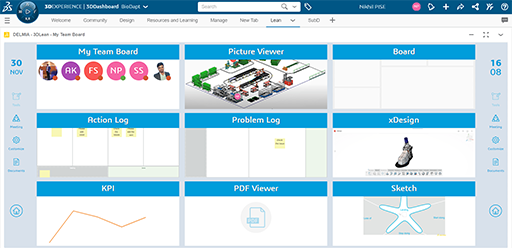 With the help of all these Leangets we can create Team Meeting Boards as per our requirements. And then we can utilize those interactive Leangets to discuss the required points in the Team meetings.
To create a meeting, select MEETING option in 3DLean app, select Leangets to fill the agenda for a guided navigation meeting. Choose the meeting duration in minutes. And start the meeting by pressing the play button.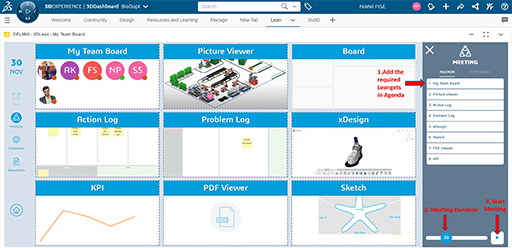 In the meeting, you can discuss as per the agenda.
– We can discussion about the Problems occurred on shop floor and the required action to be taken and assign that as a Task to the required person. With the help of sticky notes the Problem, Action logs can be defined and assign the task to required person. And these tasks can be integrated in 3DEXPERIENCE platform.
– We can do the design review by reviewing the 3D file in 3DPlay or browser-based applications in 3DEXPERIENCE platform.
– We can do brainstorming sessions, jotting down diagrams, or posting sticky notes with questions and ideas in white board like Sketch leanget.
– We can use various viewer leangets to visualize various types of documents like PDF, Videos, Images, etc. and webpages can also be viewed in the board.
– We can discuss about the KPI of the team members.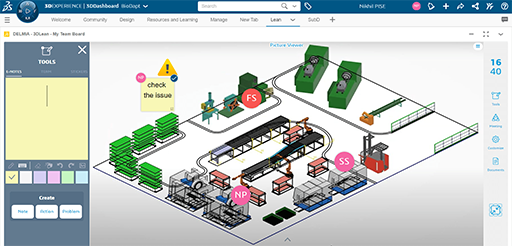 With the help of all these Leanget, we can have an interactive meeting on shop floor by using touch-based display or we can have a meeting with the remote team members, and they can join from any devices.
In this way, various types of customizable Team Meeting Boards can be created as per the meeting purpose and requirements with required team members.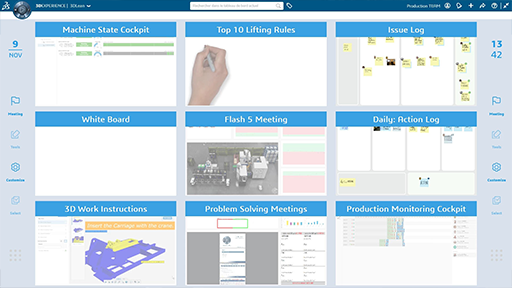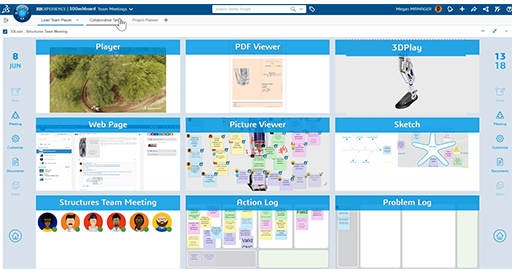 Adopting Lean principles by using the Lean Team Player within the 3DEXPERIENCE Platform can greatly impact meetings and overall company productivity.
We Urge You To Call Us For Any Doubts & Clarifications That You May Have. We Are Eager to Talk To You
Call Us: +91 7406663589