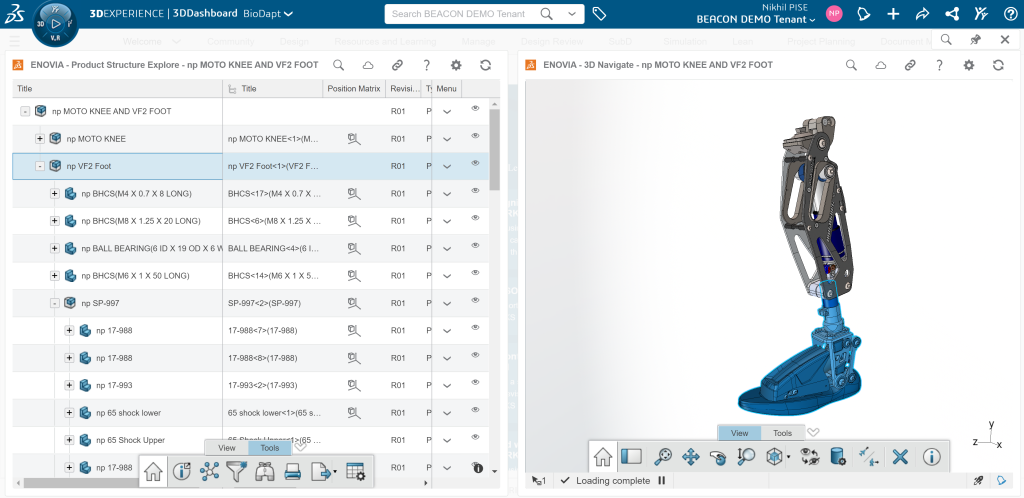 In the ever-evolving world of design, finding efficient and collaborative solutions is paramount. Traditional design processes often involve working with desktop software and navigating through local files, which can be time-consuming and cumbersome. However, with the advent of 3DEXPERIENCE cloud-based platforms, a new and innovative way to enhance the design process has emerged.
3DEXPERIENCE is a cloud-based platform that offers a seamless design experience by storing all data on 3DSpace, a vast and powerful database in the cloud. While this cloud-based approach offers numerous advantages, it also presents challenges when it comes to finding references and metadata within the extensive data repository.
This is where the 3DEXPERIENCE Product Explorer App on 3DEXPERIENCE Platform comes into play. As a web app with a multi-root approach, it provides users with a streamlined and intuitive way to navigate through physical product structures. The app consists of two widgets: Product Structure Explore, which showcases the tree structure, and 3D Navigate, which allows users to visualize the product in three dimensions.
In this blog post, we will delve into the role of the 3DEXPERIENCE Product Explorer and explore how it can significantly improve your design process. By harnessing the power of this comprehensive platform, teams can collaborate more effectively, share ideas seamlessly, and develop stunning 3D product designs that bring their visions to life.
But first, let's understand what exactly 3DEXPERIENCE Product Explorer is and how it can revolutionize your design workflow. Join us as we embark on this exciting journey of discovery and innovation in the world of design.
So, let's see how the 3DEXPERIENCE Product Explorer works
Launch the Product Explorer app




It will launch into two widgets- Product Structure Explore and 3D Navigate.




Click on Open Content, that will take you to 3DSearch, where we can enter the required file name.




We can use 6W Tags to filter out the specific file.




This will open the Assembly tree of that file into Product Structure Explore and its 3D representation can be viewed in 3D Navigate side by side.




We can visualize the assembly structure without opening that file in SOLIDWORKS.
Assembly tree can be viewed in various formats like tree view, graph view, Expand n levels, Parent child level, etc. The structure can be exported into .csv file format which can be imported into external applications.
We can Customize the Tree View using customization option from Tools tab, where we can select the required Attributes to add in Tree.

Product Structure Explore also enables you to save your CAD files from cloud directly into your machine.
The Tools tab has an "Export As" option with which we can export file. Click on "Export As", choose to a title of your choice & include drawings in the file.




And wait a few minutes for the export file to get created & you'll see a notification saying your export has been generated.
Once the file is generated you will be notified, and it will redirect you to "CAD Data Processing Monitor". You can see the history of your export file and you can download your required files.
The downloaded file will be in .zip format and it will contain the entire assembly along with its sub-components.
In 3D Navigate, we can visualize the 3D models and tools allow to you take measurements, section, check relations for effective design review.
This can reduce time and improve product decision making by simultaneously navigating and validating tabular and 3D data as both the structure tree and 3D data are available side by side.
Benefits of Using 3DEXPERIENCE Product Explorer
The 3DEXPERIENCE Product Explorer enables teams to collaboratively create and review product designs, making it an essential tool for modern product design. This platform provides several benefits, including:
– Reducing the amount of time needed to develop product designs.
– Optimizing designs for specific customer requirements.
– Improving product quality by allowing users to test designs in a virtual environment.
– Facilitating communication and collaboration with suppliers, customers, and other stakeholders.
In conclusion, embracing the 3DEXPERIENCE Product Explorer can revolutionize your design process. It opens new possibilities, enhances collaboration, and empowers teams to create remarkable 3D product designs. With its cloud-based infrastructure and comprehensive suite of tools, this platform represents the future of design. So why settle for traditional desktop software when you can unlock a world of innovation and efficiency with the 3DEXPERIENCE Product Explorer? Embrace the power of cloud-based design and elevate your design process to new heights.
We Urge You To Call Us For Any Doubts & Clarifications That You May Have. We Are Eager to Talk To You
Call Us: +91 7406663589