What is Simulation Xpress?
It is a tool that comes along with SOLIDWORKS CAD packages allowing the customers to perform basic stress analysis on individual parts and generate report.
Using Simulation Xpress:
This function can be accessed from Evaluate Tab from Command Manager. Once the user selects this function, a wizard will appear on the screen's right side. The units for the study can be set from the potions tab in wizard.

Once the user sets the units and directory for saving the files, the fixtures need to be provided for the study and it has to represent the real-world conditions. In this feature, only "Fixed Geometry" is available.

Later followed by the load conditions like real-world conditions. Force and Pressure type of loads are available.

The next step is to apply the material onto the component. This material can be fetched from SOLIDWORKS Material Library.
Once these steps are completed, the next step is to mesh and run the study. The mesh density can be set from Coarse to Fine using the slider and then the user can run the study.

After running the study, the user can view the results of Von-Misses Stress, Displacement and Factor of safety plots. Animation option can be utilized to visualize the behaviour.

Stress Plot

Displacement Plot
These results can be exported as report file to MS Word and/ or eDrawing files.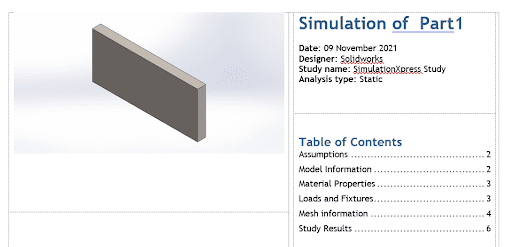 After completing the post processing, user has also an option to optimize their design.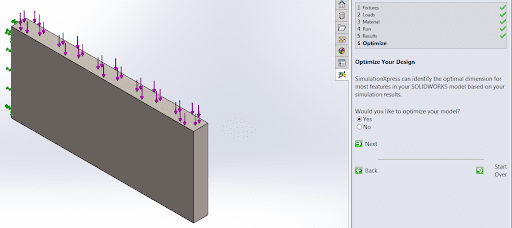 User can use this option or can end the simulation study. For an instance, let's use the optimization option. In this optimization study, only the dimension variable can be varied and the mass of the component will be minimized.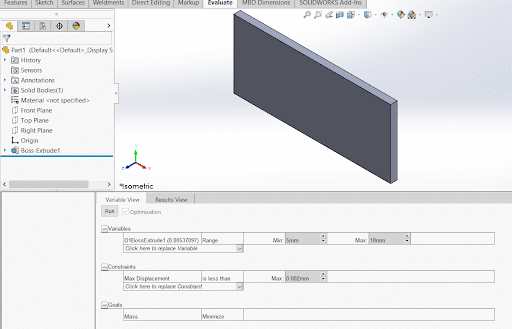 The following picture shows the initial and optimized design of the component along with the constraints and goals. As the goal is to minimize the mass of the component, it has been reduced from 0.8 kg to 0.28 kg.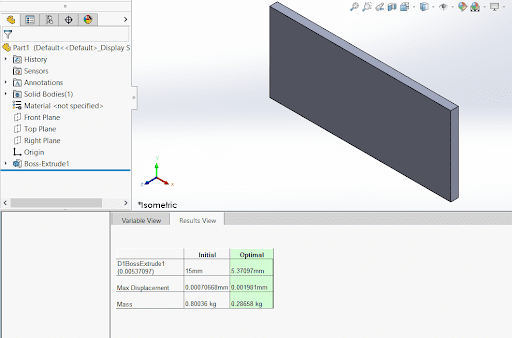 This is a great tool for evaluating the effect of loads on the design and eliminating the need for so many prototypes. If the studies are more advanced and need more inputs and flexibility in performing studies, then SOLIDWORKS Simulation packages adds value to the product.
We Urge You To Call Us For Any Doubts & Clarifications That You May Have. We Are Eager to Talk To You
Call Us: +91 7406663589